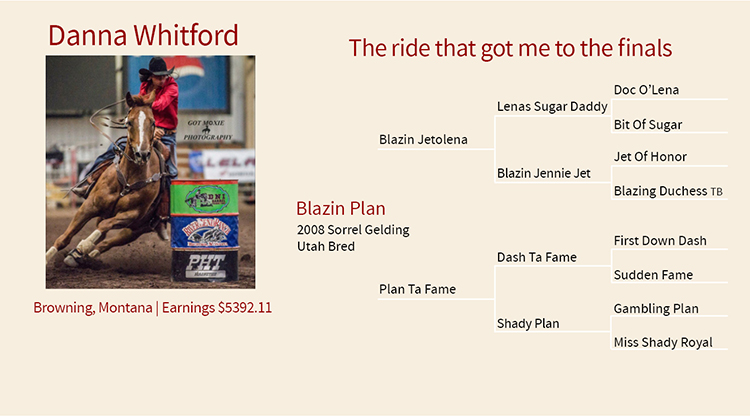 Which horse(s) are you taking to the finals?
I'm so lucky and blessed to have amazing friends and that thanks to the Rasmussen family I will be riding Dash A Ducey (2008 Bay Mare by Dash Ta Fame out of The Buzz Machine by Kipadeucy, PESI enrolled).

List a few of your horse(s)' major accomplishments in 2016
Won Poway California Prorodeo
Won Kingman Arizona Prorodeo
Placed Augusta Prorodeo
Placed in Helena Prorodeo
Placed in Bozeman Prorodeo
Placed in the 2nd round of Caldwell, Id

What is your horse(s)' style when running barrels? What special qualities does your horse have and what makes him/her unique?
Jet is a super easy horse to ride and get along with. I consider him to be lazy most of the time.

What is your favorite part of barrel racing and the rodeo lifestyle?
I love getting to meet new people, building new relationships and also getting to see new places:)

The Run Down
Saddle: Stoney barrel saddle
Pad: Classic barrel pad
Leg Gear: Iconoclast sport boots
Bit: Dave Elliot
Feed and Supplements: Alfalfa hay, Omolene 300 with Platinum Performance and Equipride minerals.
Additional Care: Jet loves his Icevibe sports boots for pre and post treatments along with all his Back on Track gear from head to tail.