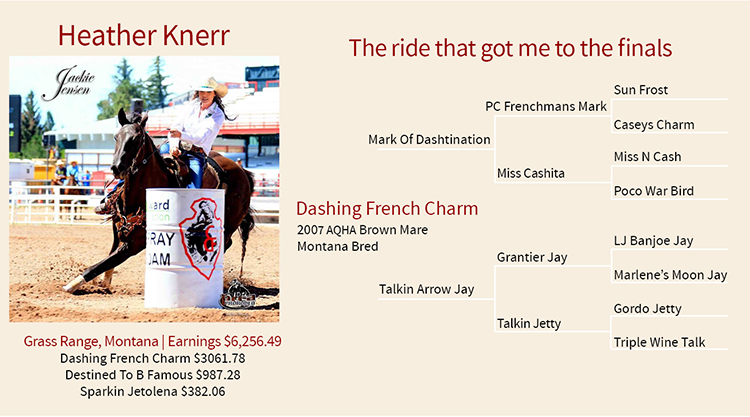 Which horse(s) are you taking to the finals?
Dashing French Charm (Hershey) is coming with me to the finals as well as Sparkin Jetolena (2006 sorrel gelding by Blazin Jetolena, The Rage Of Vegas by Vegas The Third, Montana Bred, PESI enrolled).

List a few of your horse(s)' major accomplishments in 2016
Hershey won Hardin, and Bonners Ferry Pro Rodeos this summer as well as making the short round at Casper and the second round at Cheyenne. There were many other little victories along the way, certainly was a great summer and she gave me 110%.

What is your horse(s)' style when running barrels? What special qualities does your horse have and what makes him/her unique?
Hershey is so easy to ride. As long as I believe in her, she tries so hard! She always tries to turn, but I wouldn't consider her a push style or ratey horse. She's the perfect blend of run and turn. Hershey's biggest quality is her heart. I have never had a horse that will try as hard as she does no matter what. She likes winning as much as I do and will stop at nothing to give her all.

What is your favorite part of barrel racing and the rodeo lifestyle?
My favorite part of rodeo is the people that I get to be around. I have amazing friends that I got to travel with all summer and met many more along the way. I love the people that are involved in this sport! I also enjoy the horses. Riding my horses always makes my day better!

What is your favorite inspirational quote or saying that you use to keep you going during the year?
So more than a quote this year I had a philosophy and mind set of nothing anyone can bring against me is too much. Always rise above and prove I could be stronger. Instead of looking at difficulties negatively, I really worked at looking at them as a chance to grow and become a stronger person. I also learned that the most important thing as a barrel racer is believing in your horse!


The Run Down
Saddle: Shiloh saddle
Pad: Classic Equine Sherri Cervi felt pad
Leg Gear: Iconoclast
Bit: Dave Elliot
Feed and Supplements: Oats, Horselic, Oxygen Fluidity, and Dynamite feed supplements
Additional Care: Back on Track, Equistem Legsaver, magnetic bell boots, and lots of love!
Sponsors: Horslic, Scott and Charlene Aberg, and my parents Kim and Nicki Knerr