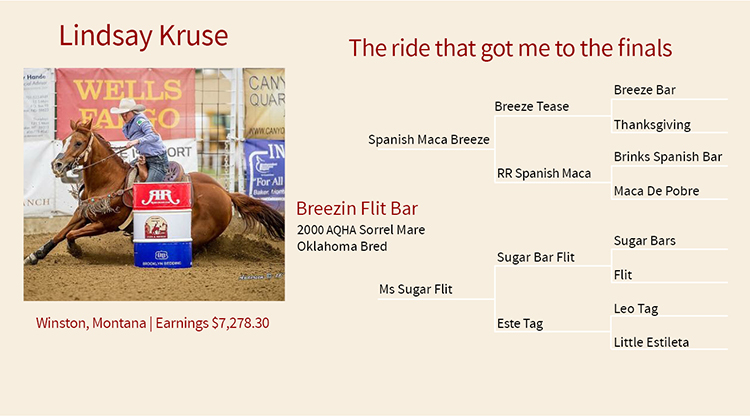 Which horse(s) are you taking to the finals?
Breezin Flit Bar and Ninnekahs Guy (2009 Chestnut Gelding by Frenchmans Guy, Ninnekahs Lucky Girl by Ninnekah Bug, South Dakota bred, PESI enrolled)

List a few of your horse(s)' major accomplishments in 2016
Denver All Star Champ, NBHA state champ. MT circuit champ

What is your horse(s)' style when running barrels? What special qualities does your horse have and what makes him/her unique?
Breeze:When it's time to run there is no holding her back. She's a little firecracker and is very gritty and will run her out out every time. Does not like to be bugged when she is eating. Doesn't like anyone but me and JJ. Turny but a free runner. Keeps me on my toes. She is so small but oh so mighty.
JJ is very much a free runner. Loves his job and is a very powerful horse. He is such a sweetheart and wants to be loved on all the time no matter the circumstances. He's just a little boy at heart. Sometimes gets scared but when he's confident there is nothing holding him back. When he's being naughty he will wait for you to put him in his place.

What is your favorite part of barrel racing and the rodeo lifestyle?
Love competing, love taking our kids with us because they can experience so much at a young age and not many kids get this lifestyle. Love that my husband and I share the same passion and understand that we will do whatever it takes so each other can do what we love.

The Run Down
Saddle: Tami Semas
Pad: Wade
Leg Gear: Iconoclast
Bit: lots
Feed and Supplements: Breeze gets Triple Crown Complete and JJ gets Ultium Platinum. They run with silver lining herbs, DoTerra supplements and Oxygen products
Additional Care: Chiropractic PHT therapy
Sponsors: Silver lining herbs, Tom Knight Farrier service, PHT team with Kaylon Rodriguez, DoTerra, Poppyseed Boutique (Helena MT).