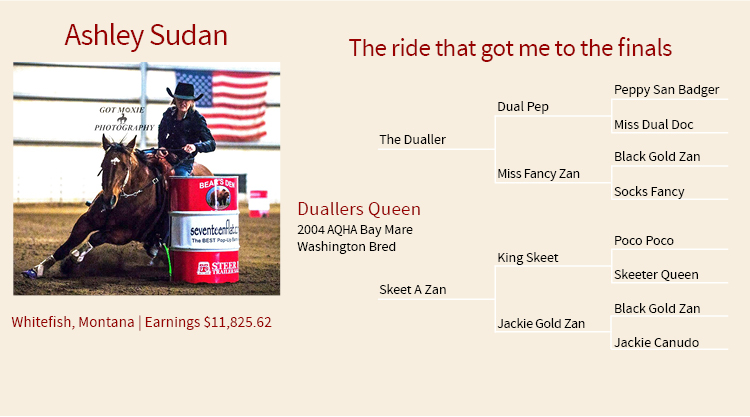 Which horse(s) are you taking to the finals?
Duallers Queen (Penny) and Lynx Success (Lynx)—2003 Chestnut Mare by Good Lynx 045 x Pretty Orphan 045, Orphan Success, Idaho Bred
List a few of your horse(s)' major accomplishments in 2017
Penny being awarded MT barrel horse of the year in January for 2016 season and qualifying for this year's MPRF
What is your horse(s)' style when running barrels? What special qualities does your horse have and what makes him/her unique? Penny is a push style, 4 wheel drive type. She possesses the quality and attitude of "the little engine that could". She puts off sassy but is very kind and gentle. You know she's feeling good when she does her notorious head toss-swirl move. Lynx is a free-runner, all-in kind of girl. She is wild at heart with a sensitive, quirky and reserved personality until she opens up to you. It's her race and you're here to enjoy it so you can't try to control, just place her where she needs to be at each turn and she'll take it from there.
What is your riding/training schedule with your rodeo horse(s)? My horses are seasoned at this point in their lives that I mostly work on keeping them fit and their minds sane by conditioning them away from the pattern along with doing simple, light dry work to keep them stretched out. When not on the road I go trail riding as much as possible.
What is your favorite part of barrel racing and the rodeo lifestyle? The speed, the horses, the skill of horse and rider, the adventures, and the western style of life.
What is your favorite inspirational quote or saying that you use to keep you going during the year? God's plan
The Run Down
Saddle: Double J
Pad: 5 Star
Leg Gear: SMBs on all 4 and bell boots.
Bit: Sherry Cervi or Dave Elliott
Feed and Supplements: Alfalfa, Total Equine, Rice bran, Oxy-Gen, Spirit Canyon Herbals, Zesterra, EquiPulmin
Additional Care: Chiro, Bodywork, Back On Track products, Sore No More, Montana Emu Ranch Liniment
Sponsors: Spirit Canyon Herbals, Win$um Productions and Sales, Dagnoli Quarter Horses