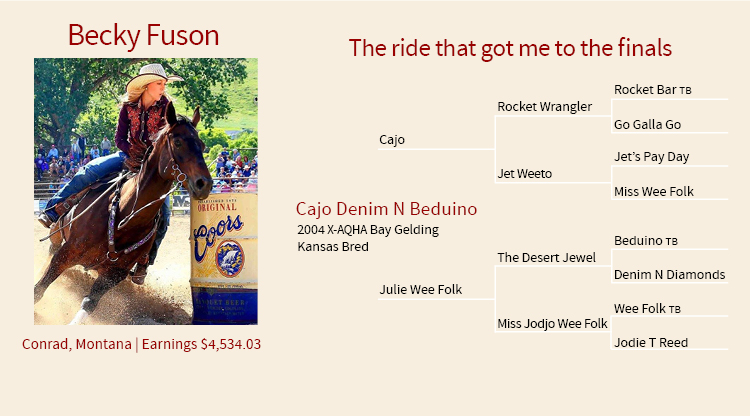 Which horse(s) are you taking to the finals?
Cajo Denim N Beduino and KR Remember Me (2010 mare by Walk Thru Fire x KR Montana Cartel, Southern Cartel, Montana Bred)
List a few of your horse(s)' major accomplishments in 2016
Won the Shelby Pro Rodeo. Qualified for the Finals at the Cloverdale Invitational Rodeo in Surrey, BC by placing 2nd in the first round, winning the second round with the fastest time of the weekend, and finishing 4th in the finals.
What is your horse(s)' style when running barrels? What special qualities does your horse have and what makes him/her unique?
Quick turn with a pivot on the backside of the barrel. He is quirky, and loves his job. Barrels is the only thing he really enjoys doing, besides being spoiled and getting loved on. He is picky with who he likes, and loves my 2 year old daughter Mesa more than anyone.

What is your riding/training schedule with your rodeo horse(s)?
I try and exercise 5-6 days a week to keep them in-shape. I only work barrels when we need a tune up and usually at a walk.
What is your favorite part of barrel racing and the rodeo lifestyle?
Getting to do what I love, while spending time with my family and the rodeo family and instilling good values in our daughter while doing so.

What is your favorite inspirational quote or saying that you use to keep you going during the year?
This past year it was, "Everything happens for a reason."
The Run Down
Saddle: Double J Pozzi Pro Racer
Pad: 5 Star
Leg Gear: Iconoclast
Bit: Junior Cow Horse 3 Piece Dog Bone
Feed and Supplements: Equilix by Sweet Pro Feeds, Renew Gold, Jailbreak pre-race paste by Oxy-Gen, EquiPulmin and Fluidity by Oxy-Ggen