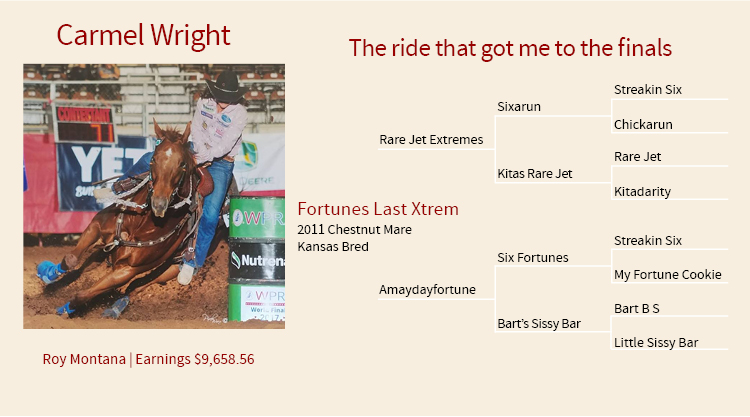 Which horse(s) are you taking to the finals? Fortunes Last Xtrem (Luna) the horse that got me here.
Tarin Ta Fame (2010 Sorrel Mare by Dash Ta Fame x Jess Tara, Mr Jess Perry) as back up—PESI enrolled; South Dakota Bred
List a few of your horse(s)' major accomplishments in 2017
Montana Circuit Finals, Average Champion 2016
Reserve Average Champion at the Ram National Circuit Finals.
Winning Walla Walla, WA running 17.00 on a standard pattern.
also won Sand Point ID, Dillon MT, Othello WA, San Bernadino CA.
finishing 21st in the world standings in her 1st season rodeoing.
What is your horse(s)' style when running barrels? What special qualities does your horse have and what makes him/her unique? Luna is more a push style, she looks for her barrels. I still have to be a little careful to first as she's freer running to it, then I have to really ride her after that. She is a big mare, she likes big patterns more, she loves that big run to first an usually really locks on to it. She is very good in small pens too. Luna is not a friendly horse, doesn't like to be petted. If she doesn't like something then you're in for a fight, she has a very tough side to her. She's a more lazy type of horse, but is usually very solid minded, doesn't care about too much, which has made her a great rodeo horse. She loves her job.

What is your riding/training schedule with your rodeo horse(s)?
I do a lot of long trotting, some circle work to keep her obedience to rein pressure and cues. Some slow barrel work occasionally if shes running lots. If shes not running lots I do some speed work and sprints to keep her wind up.
What is your favorite part of barrel racing and the rodeo lifestyle?
The life long friends I've made. The challenge and excitement of the race.
What is your favorite inspirational quote or saying that you use to keep you going during the year?
Don't worry, all you can do is do your best, if it's meant to be , it will be.
The Run Down
Saddle: Reinsman (Marlene McRae)
Pad: Ortho Equine, Special Effx
Leg Gear: Ortho Equine Boots and over reach boots
Bit: Carrol Goosetree short shank snaffle
Feed and Supplements: Triple Crown Complete, Rice Bran, Oats
Ortho Equine Pro Balance, Ortho Equine Resistor 24-7
Additional Care: Regular shoeing, Dental, worming program
Sponsors: Snowy Mountain Motors Ford-Chrysler-Dodge-Ram-Jeep
Horslic Supplements
Ben Espy DVM
Ortho Equine
Town & Country Supply Association
Equiwinner Patches