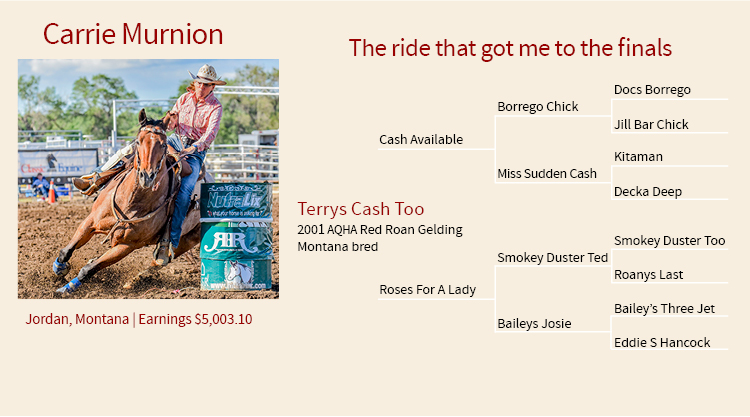 Which horse(s) are you taking to the finals?
Terrys Cash Too- AKA Junior
List a few of your horse(s)' major accomplishments in 2017
Winning Fort Benton and Drummond.
What is your horse(s)' style when running barrels? What special qualities does your horse have and what makes him/her unique? My horse's running style is push, push then push some more. Junior is pretty layed back and stays very calm when tied to the trailer by himself. However, when it comes time to run barrels his whole personality changes and he becomes very anxious. I guess what makes him unique is that he can run pretty good with that big belly!
What is your riding/training schedule with your rodeo horse(s)?
I try and ride almost every day. Most my riding is done outside of the arena and love moving cows on my horse if it is not longer than a couple of hours. If it is going to be a super hard ride and long, I take a different horse. I
What is your favorite part of barrel racing and the rodeo lifestyle?
My favorite part of barrel racing is when I win money and have a traveling partner. Secondly, I really enjoy the life long friendships that have formed from participating in the sport of rodeo.
What is your favorite inspirational quote or saying that you use to keep you going during the year?
"The body achieves what the mind believes"
The Run Down
Saddle: Jordon Peterson
Pad: 5 Star
Leg Gear: Iconoclast
Bit: Sharon Camarillo
Feed and Supplements: Whole oats, NutraLix, EquiPulmin (during the summer), Race Today (fall and winter) and Muggli Cake