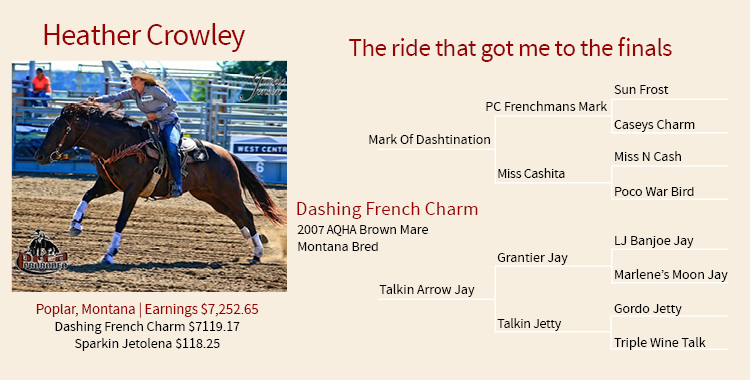 Which horse(s) are you taking to the finals? Dashing French Charm, Sparkin Jetolena (2006 Sorrel Gelding by Blazin Jetolena x The Rage of Vegas, Vegas The Third--Montana Bred, PESI Enrolled), Coronas Slick Chick (2010 Mare by High On Corona x Big Horn Easy Twist by Easy Destiny--Montana Bred)
List a few of your horse(s)' major accomplishments in 2017.
Nothing really major happened in 2017, Hershey was just really solid all year placing where she needed to to get us another trip to the circuit finals. So thankful for her. She makes it all possible.
What is your horse(s)' style when running barrels? What special qualities does your horse have and what makes him/her unique? Hershey's style is solid. She's not really a free runner and she doesn't rate super hard. She's a nice in between, but she will not run in deep ground. She has a very unique personality that is all business.
What is your riding/training schedule with your rodeo horse(s)? Usually I ride as much as possible in between work and everything else going on (most every day). I don't make any extra practice runs unless I have something that needs fixed. A lot of long trotting and also circles to get their turning muscles in shape as well.
What is your favorite part of barrel racing and the rodeo lifestyle? My favorite part is the friends n family that share the same passion and have your back no matter what. It's a challenge, but that's part of what makes it worth it.
What is your favorite inspirational quote or saying that you use to keep you going during the year?
"When it rains look for rainbows. When it's dark look for stars."
The Run Down
Saddle: Double J - Pozzi Pro
Pad: Sheri Cervi wool pad from Classic Equine
Leg Gear: Iconoclast boots
Bit: Dave Elliot bit
Feed and Supplements: Grass/alfalfa mix hay. Renew Gold, oats, and Horslic.
Additional Care: Equi-Stim Leg Saver, Equi-Resp
Sponsors: Horslic and Copper Equine