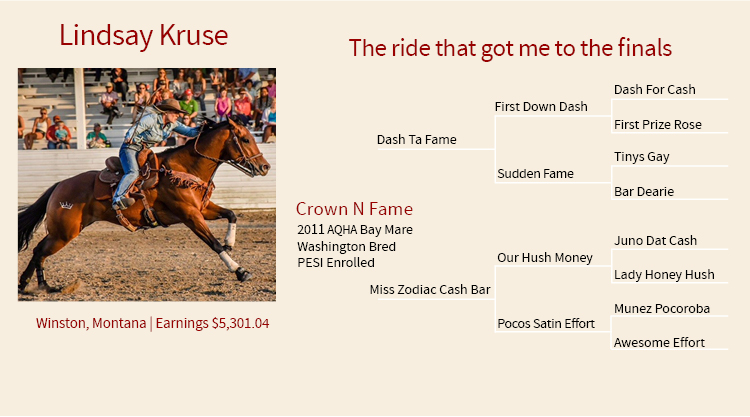 Which horse(s) are you taking to the finals? Crown N Fame aka "CG".
List a few of your horse(s)' major accomplishments in 2017 She qualified for her first Circuit finals in her first year running at rodeos. Ran a 17.1 on a standard on rodeo ground.
What is your horse(s)' style when running barrels? What special qualities does your horse have and what makes him/her unique? She is turny, and quick. Can be ratey indoors. She is a complete brat when it comes to other horses or anyone else but myself. I think it gives her an edge. She is the definition of "Mare".
What is your riding/training schedule with your rodeo horse(s)? Try to ride 5 times a week and that would include the weekend runs. She rarely sees the barrels unless we are competing or have an issue to fix.
What is your favorite part of barrel racing and the rodeo lifestyle? The adrenaline. The family part of rodeo and being able to share the same passion as my spouse. Do whatever it takes for each other to be able to do what we love.
What is your favorite inspirational quote or saying that you use to keep you going during the year?
"Failure will never overtake me if my determination to succeed is strong enough."
The Run Down
Saddle: C3 Jeff Smith
Pad: 5 Star
Leg Gear: Iconoclast
Bit: Merrill
Feed and Supplements: Alfalfa, Total Equine, Oxy-Gen products, Noni juice and papaya, Red Rock supplements.
Additional Care: Chiropractic
Sponsors: Silver Lining Herbs, Tom Knight Farrier, Wanderlust Boutique