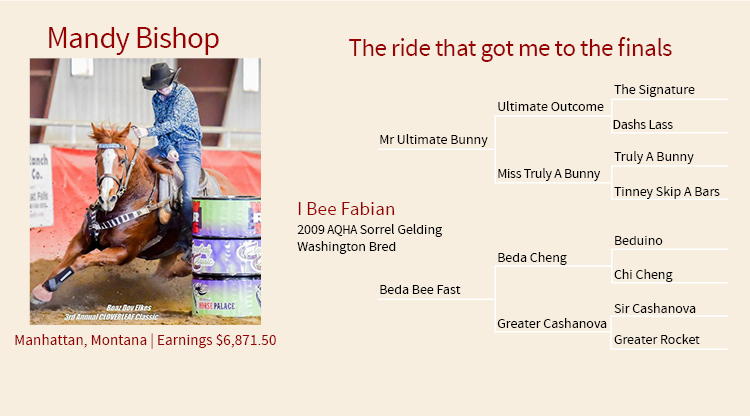 Which horse(s) are you taking to the finals? I Bee Fabian
List a few of your horse(s)' major accomplishments in 2017
Won Cheney Washington
Qualified for Montana Pro Rodeo Circuit finals & NRA finals, where he finished 3rd for the year in his first year rodeoing
What is your horse(s)' style when running barrels? What special qualities does your horse have and what makes him/her unique? His personality is unique, a little bit like a 3 year old boy! We call him Ubee . . . U be good, U be nice, U behave. He is gritty and always tries. He is very push style.
What is your riding/training schedule with your rodeo horse(s)?
Long trot, or pony him during the week, quick tune up when needed
What is your favorite part of barrel racing and the rodeo lifestyle? The adrenaline of the competition and the people, I like the comradery and how competitors support each other.
What is your favorite inspirational quote or saying that you use to keep you going during the year?
"If you think you can or you think you can't, you're right" Henry Ford
The Run Down
Saddle: old Cecil Phillips
Pad: 5 Star with Back On Track liner
Leg Gear: sport boots--Iconoclast, Pro Choice or Classic Equine, rubber bell boots with velcro bell boots underneath
Bits: Charmayne James "Chappy Bit" for competition
Feed and Supplements: Nutrena XTN and whole oats with Red Cell