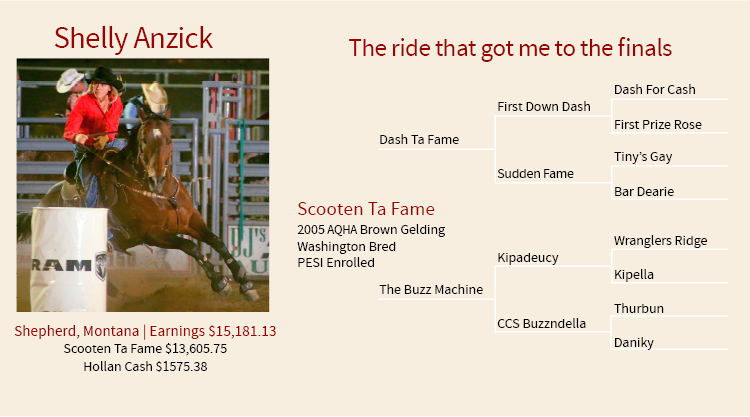 Which horse(s) are you taking to the finals? Scooten Ta Fame and Hollan Cash (2007 Sorrel Gelding by Holland Ease x Shebe Firin For Cash, Cash Not Credit--Oklahoma Bred)
List a few of your horse(s)' major accomplishments in 2017
Helena Last Chance Stamped Champion
Bozeman and Missoula Champion
What is your horse(s)' style when running barrels? What special qualities does your horse have and what makes him/her unique? He's hard running with explosive turns. Bad ground doesn't affect him.

What is your riding/training schedule with your rodeo horse(s)?
3-4 days a week loping to keep them in shape. Sprinting for lungs.
What is your favorite part of barrel racing and the rodeo lifestyle?
The adrenaline rush after a fast run. Preparing for and having success.
What is your favorite inspirational quote or saying that you use to keep you going during the year?
God, who holds time and chance in His hands, is the only one who can put you at the right place at the right time.
The Run Down
Saddle: Tmi Semas, Shilo (Michele McLeod)
Pad: Tod Sloan
Leg Gear: Iconoclast front, polos back
Bit: No Hit Medium
Feed and Supplements: Whole Oats, Grass Mix, Oxy-Max
Additional Care: Regular shoeing, Dental, worming program
Sponsors: Lots of TLC and Hugs