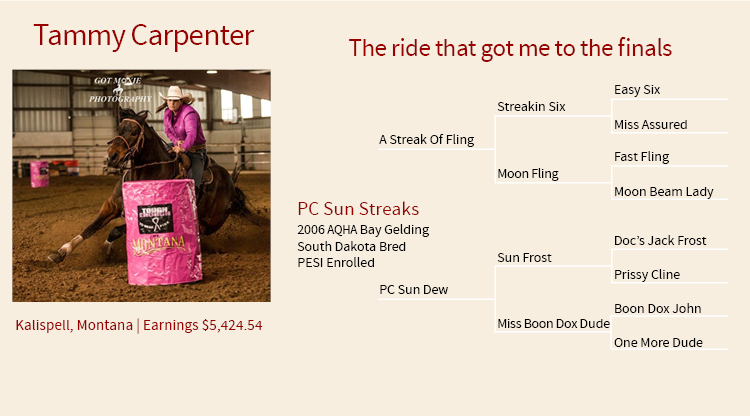 Which horse(s) are you taking to the finals?
I will be taking Obie (PC Sun Streaks)
List a few of your horse(s)' major accomplishments in 2017
Reserve Champion: Kalispell Spring Rodeo, Belt, Augusta
Multiple placings including: Great Falls, Bozeman and Kalispell
Divisional Circuit Finals Champion
What is your horse(s)' style when running barrels? What specialqualities does your horse have and what makes him/her unique? He is a free runner but very turny. He is very calm, laid back and lazy. But just prior to a run, he comes to the top and can be a handful.
What is your riding/training schedule with your rodeo horse(s)?
I like to give him a day off after a series of rodeos and then just light exercise when not competing.
What is your favorite part of barrel racing and the rodeo lifestyle? I love training horses and the competition of rodeo sports. I'm especially proud of what Obie and I have been able to accomplish together.
What is your favorite inspirational quote or saying that you use to keep you going during the year?
It's hard to beat a person who never gives up. --Babe Ruth
The Run Down
Saddle: Double J Pozzi Pro
Pad: Classic Equine pads
Leg Gear: Iconoclast
Bit: lifter bits
Feed and Supplements: Alfalfa hay
Sponsors: My family!