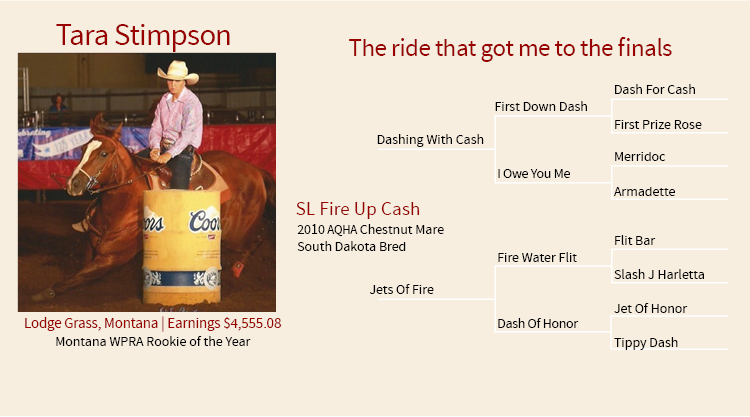 Which horse(s) are you taking to the finals?
SL Fire Up Cash "Peanut"
List a few of your horse(s)' major accomplishments in 2017
Placed 4th in the first Pro Rodeo we entered (NILE Pro Rodeo)
2nd in Miles City, MT
4th in Lewistown, MT
Qualifying for Circuit Finals our rookie year
What is your horse(s)' style when running barrels? What special qualities does your horse have and what makes him/her unique? She is a free runner going to first but completely push style after that. Nothing really excites her at all. The only time she ever gets worked up is walking in the gate but she always walks out like nothing happened.
What is your riding/training schedule with your rodeo horse(s)?
I'm very keen on giving horses time to rest and relax. The day after I get back from being out on the road, they get the day off. I like to keep my horses thinking about something other than always being a barrel horse. I will ride out in the hills most of the time to keep them in shape and do a little work here and there in the arena when needed for tune ups.
What is your favorite part of barrel racing and the rodeo lifestyle?
Rodeo is a very humbling sport. There is lessons when you're winning and even more lessons when you're losing. There is always new obstacles that can be thrown your way at any time too. I love being able to travel and see new places, meet new people, and build lifelong relationships with friends that become family.
What is your favorite inspirational quote or saying that you use to keep you going during the year?
"Work hard in silence, let success be your noise" --Frank Ocean
The Run Down
Saddle: Connolly Saddle
Pad: CSI Saddle Pad
Leg Gear: Classic Equine Legacy Boots
Bit: Merrill Bits or Dave Elliot Bits
Feed and Supplements: Total Equine, MVP Exceed 6-Way, and HorsLic
Additional Care: PEMF, Back On Track, Chiropractor, and Lots of love and treats