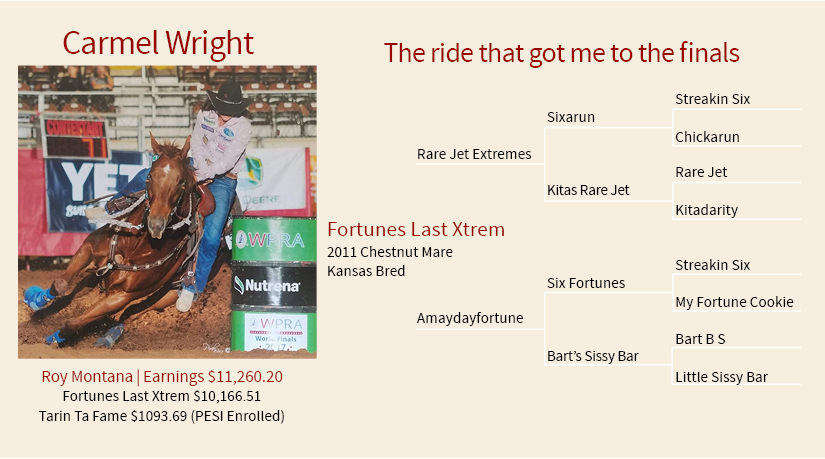 Which horse(s) are you taking to the finals? Fortunes Last Xtrem (Luna)
List a few of your highlights for 2018
Winning a round at Houston and making the Championship round.
Qualifying to compete at Calgary, and making Championship Sunday
Winning the Denver All Stars Rodeo
Also getting together last winter with Justin Thorson, custom saddle maker from Cardwell MT, and designing my own barrel saddle

What is your horse(s)' style when running barrels?
Luna is very free running to her first barrel, from then on she's push style. Very feely so I try to leave
her alone as much as I can and let her work

What special qualities does your horse have and what makes him/her unique?
Luna is very tough, she is arrogant and pushy so needs to be kept in line. She is fairly big and will try to push you around if she can. She doesn't care about too much so didn't take any seasoning, but if she does light up over something she is a handful.
She is a very fun horse to run, really applies herself to her job.

Do you have a routine you follow before your runs?
I try to stay calm, trot and lope circles, normal warm up but I will do some roll backs and sharpen her up, make her quicken her feet as she has a tendency to be a little lazy footed.
Name some favorite places on the road that you stop at for a meal, adventure or sightseeing?
Subway is a regular stop when traveling. Favorite place I've stopped to sightsee was Rock Spring, WY, when we went round the wild horse loop we got lucky and saw two herds of wild horses. Was very cool and the scenery was amazing.

When you're headed to the rodeo who's on your play list?
I usually listen to Y2 country channel
The Run Down
Saddle: Carmel Wright Barrel Saddle by Justin Thorson
Pad: Ortho Equinex
Leg Gear: Ortho Equine Boots and bell boots
Bit: Carrol Goosetree short shank snaffle
Feed and Supplements: Triple Crown Complete, whole Oats, Equinity
Additional Care: Regular maintenance, Chiropractic, Dental, etc.
Sponsors: Snowy Mountain Motors Ford-Chrysler-Dodge-Ram-Jeep
Horslic Supplements
Ben Espy DVM
Justin Thorson Custom Saddles Ortho Equine
Town & Country Supply Association
Equiwinner Patches