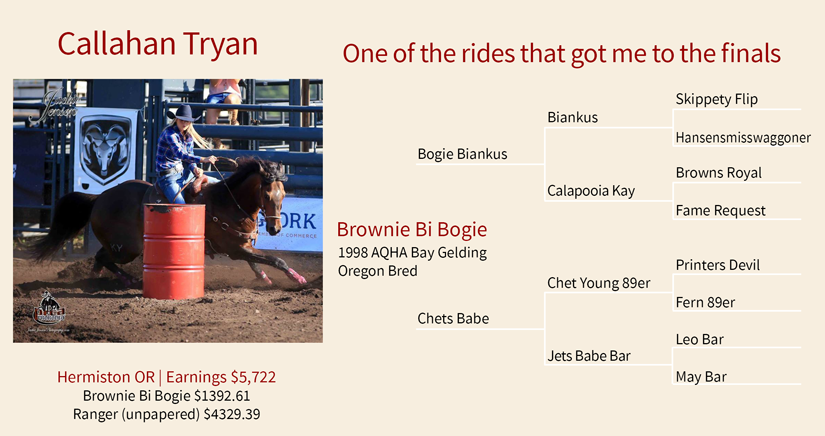 Which horse(s) are you taking to the finals? Brownie Bi Bogie & Ranger (unpapered 11 year-old gelding by Bogie Biankus out of a Hancock-bred mare)
What are your favorite memories/highlights from 2019? Winning 2nd at Big Fork on Ranger when he hadn't been to very many rodeos.
What is your horse(s)' style when running barrels? Nothing flashy just straight lines! He's long strided and usually very deceiving.
What are some favorite places on the road that you stop at for a meal, adventure or sightseeing? Not usually a lot of time for sightseeing and good food, just lots of gas station food, candy and energy drinks.
When you're headed to the rodeo what do you listen to: inspirational podcasts, music, audio books? I love to listen to music, but if I'm with my husband you can guarantee ESPN radio is on
The Run Down
Saddle: Cactus
Pad: Classic Equine
Leg Gear: Fastback boots
Bits: Combination
Feed and Supplements: Senior Equine, Zesterra, UlcerGard.
Additional Care: Hansbo boots and ceramic blanket
Sponsors: 307 Equine Wellness