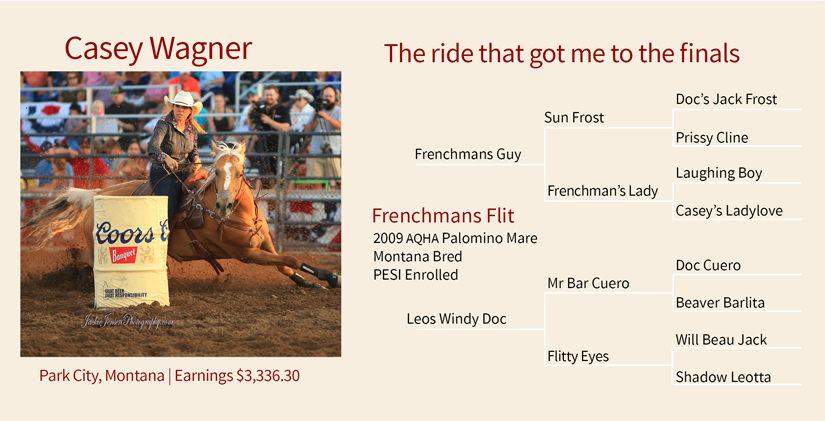 Which horse(s) are you taking to the finals?
Frenchmans Flit "Cali Chrome" and Chicke Fame "Yahtzee" (2014 Palomino Mare by A Classic Guy x Dashing Book by LDS Unleashed, Alberta Bred)
What are your favorite memories/highlights from 2019?
2019 was a super fun year! Placing at The Big Sky Pro Rodeo Roundup & The Last Chance Stampede.
What is your horse(s)' style when running barrels? Cali is pretty free running to the first barrel and then push style on second and third. She loves the rodeo atmosphere and a crowd!
What are some favorite places on the road that you stop at for a meal, adventure or sightseeing? We love going to the water park in Great Falls!
When you're headed to the rodeo what do you listen to: inspirational podcasts, music, audio books? I love to listen to all kinds of music. I also like The Racer's Edge and Married With Horses Podcasts
The Run Down
Saddle: Master Lightweight
Pad: Classic Equine Zone Pad
Leg Gear: Classic Equine
Bits: Dave Elliott
Feed and Supplements: Ultium, Silver Lining Herbs, Platinum, Forco
Additional Care: Chiropractic care and PEMF Blanket & Magna Wave
Sponsors: Silver Lining Herbs, UBRC, Forco, Thunderbird Brand