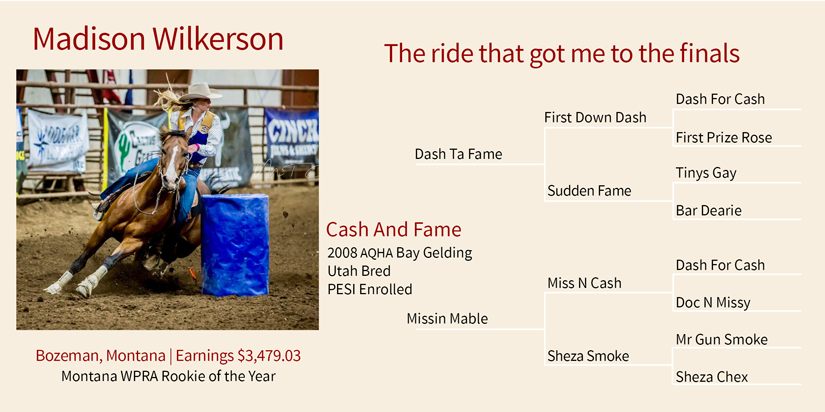 Which horse(s) are you taking to the finals? Cash And Fame AKA José. And I have Hezaburninfreckle (gelding by Missin Freckle x Ramb O Leana by Tuff Lena) owned by Ivy Redfield as a backup.

What are your favorite memories/highlights from 2019? Some of my favorite memories of 2019 include traveling to all of the rodeos with my family, my last fall season of college rodeos, and winning the long go of breakaway roping in Baker which was the first time I had gotten to enter a pro rodeo in the breakaway!

What is your horse(s)' style when running barrels? José is a total push style horse, I just have to completely trust him and him riding until I'm at the barrel.

What are some favorite places on the road that you stop at for a meal, adventure or sightseeing? We really don't stop much since we just want the horses to be able to get there and rest, but any really clean gas station is a good one!

When you're headed to the rodeo what do you listen to: inspirational podcasts, music, audio books? I listen to music, all different genres! And I like to chat a lot with whoever is with me.

The Run Down
Saddle: Woody's barrel saddle
Pad: 5 Star Pad
Leg gear: Iconoclast
Bits: A Kathy James twist bone bit for running barrels and a Tom Balding snaffle any other time
Feed and supplements: Alfalfa grass mix, Renew Gold, Oxygen XT10, and lots of treats—José is a spoiled horse!
Additional Care: José has regular chiropractic work (by Lil Lorenzen) and dental work (by Bri Berge) done. I also use Back on Track products, Sore no More, and cool-aid wraps. Dr. Ray at Ray Equine Services also helps keep José feeling his best whenever something is off!
Sponsors: none yet!