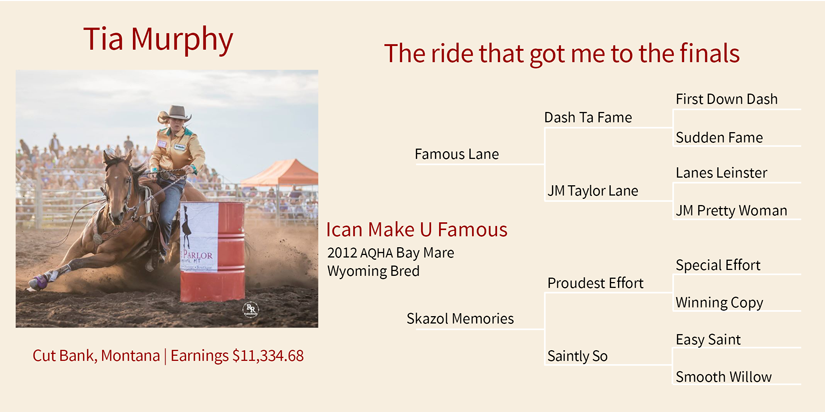 Which horse(s) are you taking to the finals? Ican Make U Famous aka Reno
What are your favorite memories/highlights from 2019? Won the following rodeos: Rodeo Roundup, Roundup; Central MT Ram rodeo, Lewistown; Yellowstone River Roundup, Billings; Northwest MT rodeo, Kalispell, won by 4 tenths. And Qualified for the American Semi-Finals
What is your horse(s)' style when running barrels? Reno is hard running, gritty, and likes to use the ground in her turns. She has the biggest heart and loves her job.
What are some favorite places on the road that you stop at for a meal, adventure or sightseeing? Usually it's gas station food, but if there is a Starbucks or a coffee shop, we make it a priority to stop. Our kids love the fair rides, so we let them pick one fair for rides.
When you're headed to the rodeo what do you listen to: inspirational podcasts, music, audio books? Anything on Sirius XM (I'm not too picky and like variety) and inspirational messages from Trey Johnson or Jerry Savelle.
The Run Down
Saddle: Burns
Pad: 5 Star
Leg Gear: Iconoclast
Bits: Rate N Turn, Elliot Bit
Feed and Supplements: Alfalfa mix hay, Bluebonnet Omega Force, CEP supplements, Forco
Additional Care: Magna Wave, Chiro/Massage, Hansbo, CEP Kool-It line
Sponsors: Horslic, Pampered Pony