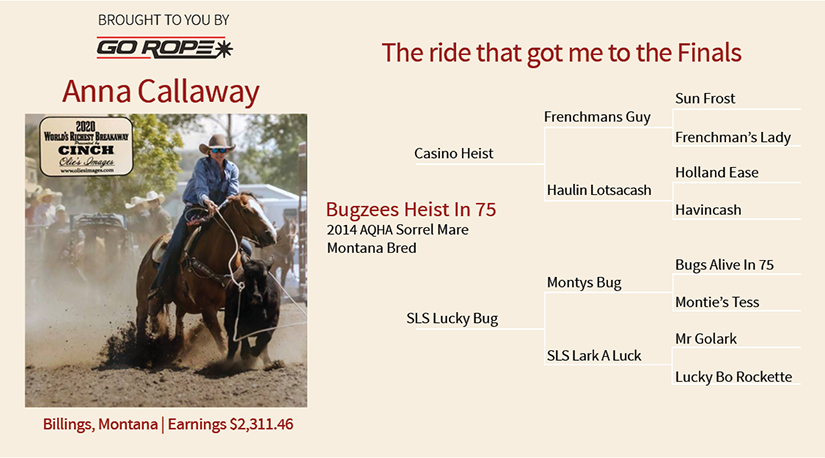 Which horse(s) are you taking to the finals? What are their lifetime earnings?
Bugsy, 8-year-old mare. $13,000
What is unique about their personality and what are their strengths?
Very kind loving mare, my 7-year-old daughter runs barrels, poles, ties goats and flag races on her at the youth rodeos.
When did you start competing in breakaway?
I think I was 11 or 12
Do you raise your own horses? Or do you purchase? Are you looking for specific bloodlines?
Yes, my mare is by Casino Heist out of a Bugs Alive in 75 mare. We look for running crossed with cowbred.
What are your conditioning and workout routines for both you and your horse(s)?
We have a feedlot so I like to ride Bugsy in the Feedlot 1-2 times a week and then exercise a couple times outside as well when she is competing. In the summer Ill rope on her 3 times a week.
When you're headed to the rodeo what do you listen to: inspirational podcasts, music, audio books?
Kid Rock!
Do you have a rodeo idol and reasons why?
Jackie Crawford of course! She is just such a huge asset to this sport and has done so much for all breakaway ropers and she ropes amazing!
Do you have favorite spots to stop at while on the road?
We love to stop at hot springs when we find them. Also Mr Hot Dog in Butte
Who do you travel with (including pets or companion horses) and in what kind of rig?
Usually Jacey Fortier, I went quite a bit with Sarah Verhelst and Joey Williams this past summer. Pickup and trailer Also my husband and family went with me to Cheyenne twice and my dad went once last summer.
What are your favorite memories/highlights and obstacles you faced getting to the 2021 circuit finals?
I struggled early in the summer, having had a baby at the end of May it took me until about the middle of July before I felt like I was back to roping like I did before. So I'm just so glad I was able to make the first Circuit finals for breakaway in Montana.
How do you juggle family life while on the road?
Bring them with! My baby went with me all over last summer, from North Dakota to Oregon
What are your hobbies or other sports you compete in?
Barrels

The Run Down
Saddle: Three Forks saddle
Pad: 5 Star
Leg Gear: Professional's Choice
Bits: Tom Balding
Rope: King or Rattler Viper
Feed and Supplements (in addition to what, how much you feed daily): Alfalfa hay, Equis Generation and Lifeline by Stride Animal Health