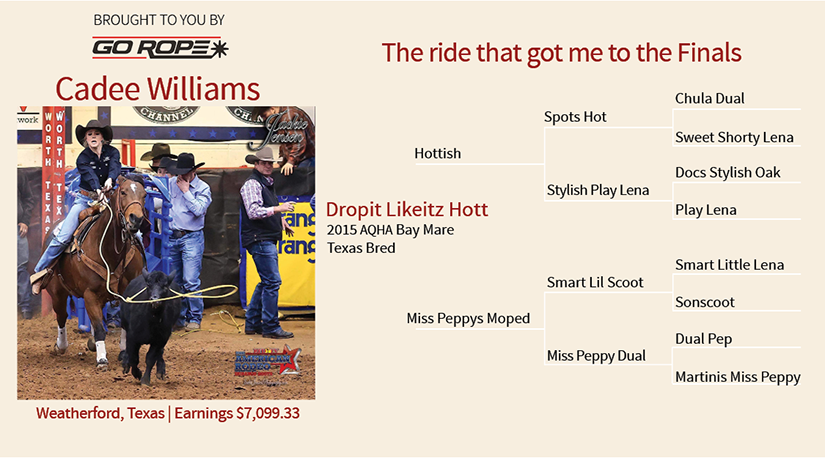 Which horse(s) are you taking to the finals? What are their lifetime earnings?
DROPIT LIKEITZ HOTT (Scandal)

What is unique about their personality and what are their strengths?
She is a very mischievous horse! She loves to untie herself and is always trying to see what she can get away with! Her strength is her heart and her speed for basically being the size of a pony (13.2 hands).

When did you start competing in breakaway?
I have competed in breakaway ever since junior and NRA rodeos from about 7 years old.

Do you raise your own horses? Or do you purchase? Are you looking for specific bloodlines?
Purchase. Nothing too specific. I am partial to Hottish bread horses now since my good mare is a Hottish.

What are your conditioning and workout routines for both you and your horse(s)?
I work out 5x a week. My horse(s) gets exercised 5x a week as well and practiced on once or twice a week.

When you're headed to the rodeo what do you listen to: inspirational podcasts, music, audio books?
Inspirational/educational podcasts, and music. Love soaking up any knowledge I can from podcasts so that's usually my go to but got to break it up with some music as well

Do you have a rodeo idol and reasons why?
Cody Ohl—he was the very best at what he did and he was absolutely electric to watch in the arena.

Do you have favorite spots to stop at while on the road?
Taco Time, and anywhere with huckleberry milkshakes! Local coffee shops are also my favorites!

Who do you travel with (including pets or companion horses) and in what kind of rig?
I usually go with my family! My husband Landon, 2 kids, in our motorhome and bumper pull trailer.

What are your favorite memories/highlights and obstacles you faced getting to the 2021 circuit finals?
I just love getting to rodeo in Montana, period. It's always a highlight of my year getting to come up here and soak up the awesome weather and beautiful places. Getting to rodeo for a living just makes it that much better. I faced a lot of horsemanship obstacles this summer that kept me from winning as much as I would have liked.

How do you juggle family life while on the road?
Thankfully, my kids are so used to traveling and going to rodeos, they just love it. Our motorhome makes it much easier to be on the road with kids. As long as we take "Graham Cracker" the pony, they are as happy as can be.
What are your hobbies or other sports you compete in?
Love to ski! Always looking for places to go ski when I am not at a rodeo.
The Run Down
Saddle: Martin Roper
Pad: Classic Equine Zone Wool Top
Leg Gear: Classic Equine Legacies
Bits: Snaffle Bit
Rope: Striker 9.5 or Viper 9.5 (Rattler Ropes)
Feed and Supplements (in addition to what, how much you feed daily): 1 Scoop of Whole Grain & constant Grass/Alfalfa
Additional Care: Hock Injections 2 or 3x a year
Sponsors: Rattler Ropes, Classic Equine, Spur Cross LLC, Go Rope Clothing