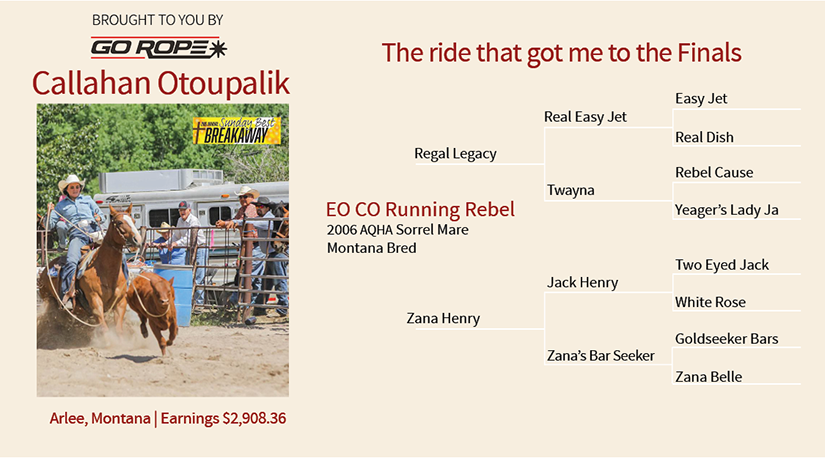 Which horse(s) are you taking to the finals? What are their lifetime earnings?
I will be taking the mare I rode all year; her barn name is Rebel and I would guess her lifetime earnings are about $50,000.

What is unique about their personality and what are their strengths?
Rebel has been my main mount for over 10 years now and is as solid as they come. I have to hustle her in the box otherwise she moves at a slow walk the entire time and then is explosive when it's time to do her job. I only ever have to worry about the roping part, she's got everything else under control.

When did you start competing in breakaway?
I started breakaway roping when I was probably 9 or 10, my dad made me take a break from heading for a year because that's all I wanted to do. I didn't want to be a breakaway roper at the time, it's funny how things work out.

Do you raise your own horses? Or do you purchase? Are you looking for specific bloodlines?
A bit of both, Rebel was born and raised at my house but the other horses I've rode we've bought. I'm not picky about papers but I do like a mix of cow-horse and running bred.

What are your conditioning and workout routines for both you and your horse(s)?
I like to keep everything as consistent as possible, maintaining steady exercise and healthy lifestyle in all aspects for both my horses and myself.

When you're headed to the rodeo what do you listen to: inspirational podcasts, music, audio books?
I love podcasts/audio-books and music, too! I love to listen to audiobooks about mental performance and there are so many cool options to listen to. The books I listened to on repeat this summer were Green Lights by Matthew McConaughey and Relentless by Tim Grover.

Do you have a rodeo idol and reasons why?
I have so many it's hard to pick one, but I've always admired Cadee (Tew) Williams, she is a winner and a really great person. I love the way she ropes, what a competitor she is, and she's become a great friend and mentor to me, too.

Do you have favorite spots to stop at while on the road?
I love finding little hometown gems! Breakfast cafés where the cowboys drink their coffee and little latte shops hold such a special place in my heart.

Who do you travel with (including pets or companion horses) and in what kind of rig?
I did quite a bit of rig hopping this summer and got to make friends/travel with so many new people, I never once had a bad time. The rest of the time it's just me and my dog Dally, with Rebel and my young horse Nikki Six, I've got a little weekender package trailer that fits us perfectly.

What are your favorite memories/highlights and obstacles you faced getting to the 2021 circuit finals?
This year was full of new experiences, new rodeos and lots of smiles. I met so many new people and got to rope at so many rodeos I never thought I'd get the chance to rope at. There is so much to learn when it comes to pro rodeo, but there are so many people willing to help if you just ask, and I am so grateful for that.

How do you juggle family life while on the road?
My family is so incredibly supportive and we FaceTime a lot, I try to spend every second I can with them when I'm not on the road.

What are your hobbies or other sports you compete in?
I am currently in grad school, so when I'm not roping that's usually what I'm doing, but I do love to play pool and spend time with the people I care about!

The Run Down
Saddle:
Teskey's Saddle
Pad:
Best Ever Pad
Leg Gear:
Professional Choice
Bits:
Long Shank Correction Bit
Rope:
9.5/10.0 Hooey Cortex by Cactus
Feed and Supplements (in addition to what, how much you feed daily):
Triple Crown Feed, Oxy-Gen Products, Ani-Med Supplements, Grass/Alfalfa mixed hay
Additional Care:
Maintenance Injections, chiropractic, and laser therapy. All with the help of Dr. Wetzel at Western Montana Equine