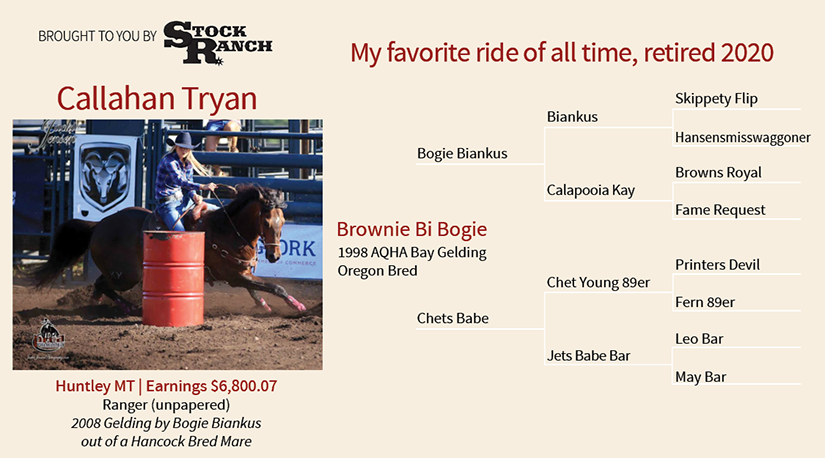 Which horse(s) are you taking to the finals? What are their lifetime earnings?
I will just have Ranger with me this year and this will be his first time competing in Great Falls. His lifetime earnings are roughly $75,000
What is your horse(s)' style when running barrels and what's unique about their personality?
Ranger is more of a push style . . . sort of. He is a free runner but has instant rate and turn.
When did you start competing in barrel racing?
I've competed in barrel racing probably since I was 3 or 4 years old in the PeeWee Class
Do you raise your own horses? Or do you purchase? Are you looking for specific bloodlines?
My family raises their own horses and us sisters fight over which one we get. Lol I lucked into Ranger (I do not own him) one of my good family friends Lacy Mespelt owns him and loves to watch him go to rodeos since she is not able to pursue that dream while she is raising a family of her own. He looks so much like my old Brownie Bi Bogie that it was a match made in heaven. He has the same sire as Brownie, which is Bogie Biankus. With that being said, I love my Bogie babies but I am not partial to any bloodline in particular. Though I am dying to have a Frenchman's Falcon baby.
What are your conditioning and workout routines for both you and your horse(s)?
This time of year it's lots of exercising out in the fields.
When you're headed to the rodeo what do you listen to: inspirational podcasts, music, audio books?
Unfortunately it's usually any type of sports radio, thanks to my husband. If it was up to me it would be a wide variety of music, but apparently you only get to pick the channel when you drive.
Who do you travel with (including pets or companion horses) and in what kind of rig?
My husband Brady, our baby girl Oakley, our dog Chip. In a Dodge truck and Platinum living quarters trailer.
What are your favorite memories/highlights and obstacles you faced getting to the 2021 circuit finals?
It was a fun summer getting to experience rodeo life with my husband and a new baby. There were a couple of times we had to juggle finding someone to watch Oakley while we competed but, I am so thankful for everyone who lent a hand while we competed.
The Run Down
Saddle: Cactus
Pad: Classic Equine
Leg Gear: Fast Back
Bits: Dave Elliot with a dogbone roller
Feed and Supplements (in addition to what, how much you feed daily): Grass pastures and Alfalfa in the summers, and Alfalfa and Grass hay in the winter. Ranger is a pretty easy keeper and due to allergies I try not to keep hay in front of him while traveling.