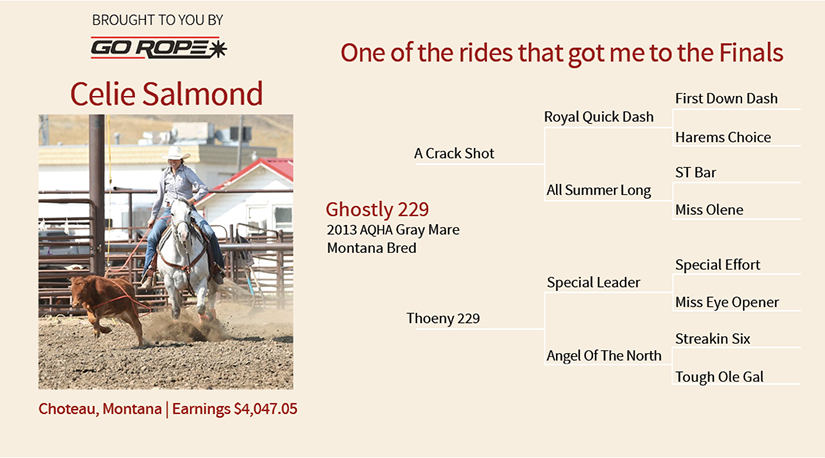 Which horse(s) are you taking to the finals? What are their lifetime earnings?
"Boo" Ghostly 229 Breakaway/Barrel Race- $20,000.
"Hotshot" RV Colonel Otoe (2007 Chestnut Gelding by RV Smart Magic x Otoes Freckles Fancy by Otoes Thumbs Up, Canadian Bred) Breakaway-$40,000 Barrel Race-$20,000.
What is unique about their personality and what are their strengths?
Hotshot—His strength is getting to the calf faster than any horse I have rode, he gives me a quick shot because he breaks so hard. Personality wise, he is mean to every other horse but Molly's old Breakaway horse.
Boo—Her strength is being so calm in the box, and being consistent in everything she does. She is one of the sweetest horses to people, but does not like any other horses besides the two she is with.
When did you start competing in breakaway?
9 or 10.
Do you raise your own horses? Or do you purchase? Are you looking for specific bloodlines?
We like to purchase yearlings/two year olds preferably. We have recently got a lot of horses from Randy Rasmussen who raises running bred quarter horses. This is where Boo came from, before these horses, it was mostly anything cow bred.

What are your conditioning and workout routines for both you and your horse(s)?
We like to try to rope 2-3 times a week in the summer, and on the other days we usually long trot to the top of hills around our house. Usually I like to spend about a month conditioning before competing. I workout 2-3 times a week with a personal trainer focusing on upper body and core/back strengthening.
When you're headed to the rodeo what do you listen to: inspirational podcasts, music, audio books?
My sister and I were on a kick of murder podcasts this summer that passed the time pretty well. We also like pretty much any country music or the RFD channel on Sirius.
Do you have favorite spots to stop at while on the road?
Not really.
Who do you travel with (including pets or companion horses) and in what kind of rig?
My sister and her horse or my dad went with me a lot this summer. If Molly (my sister) was not with me, I would either take Boo, or another buddy horse because Hot Shot cannot be by himself. When my sister is with me, we would take our stock trailer to fit all the horses. If we stayed for a couple days, we would take my mom and dad's Elite living quarters.
What are your favorite memories/highlights and obstacles you faced getting to the 2021 circuit finals?
Getting to compete at Pendleton, I was able to hit the last two circuit rodeos in the breakaway in Lewiston, Idaho, and Colfax, Washington. Both of those rodeos went very well and were cool to experience, also moving me up in the standings. It ended the season on a high note.
The Run Down
Saddle: Cactus Saddles
Pad: Wool base and Classic Equine Wool top pad
Leg Gear: Classic Equine
Bits: Short Shank Snaffle
Rope: Spitfire 50 weight
Feed and Supplements (in addition to what, how much you feed daily): Whole Oats, Vitastress
Sponsors: So many people supported me this year, more than I can thank. My mom, dad, and sister made so much of this possible. Many hours spent in the practice pen, driving, and working, none of this would be possible without them. I also had many others that offered advice on entering, cattle, and to drive that made 2021 a successful year!