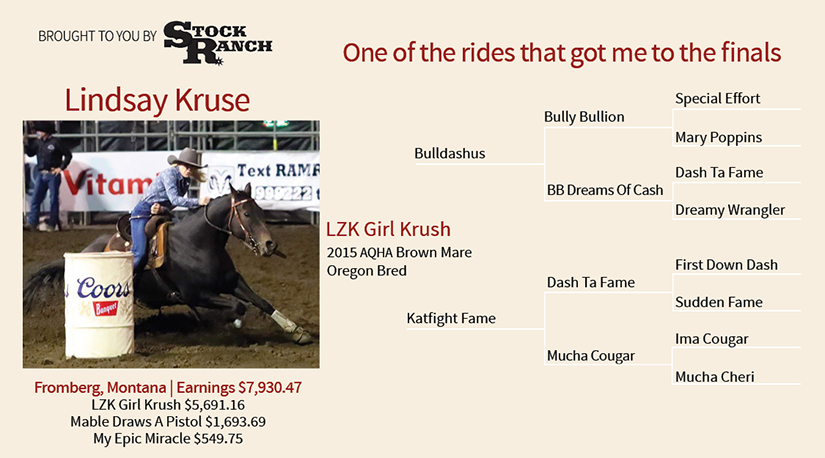 Which horse(s) are you taking to the finals?
It is still up in the air at the moment! For now I have Sheza Streakn Leader (2011 AQHA Sorrel Mare by The Card Shark 229 x SV Colonel Junior by Peppy San Colonel, Montana Bred, owned by Katie Stephenson) that I've been riding and love.

What is your horse(s)' style when running barrels and what's unique about their personality?
LZK Girl Krush has a great personality. She is physically and mentally tough. The more I threw her the more she wanted and the better she ran. She can be ratey and turny. I'm so excited for years to come with her. The mare I will be running at the finals is very easy-going and gritty. Deceiving when she runs which makes it fun.
When did you start competing in barrel racing?
I was 11 years old when my parents bought me my first barrel horse. We started going to our Wednesday night jackpots and the rest was history.
Do you raise your own horses? Or do you purchase?
I haven't raised any yet but that's going to change in the next year. I usually like to get them at about 5-6 years old. Still young enough to put your touch on on them.
Are you looking for specific bloodlines?
Nothing specific but I tend to like what I have won on so that usually catches my eye if it's seen on a set of papers.
What are your conditioning and workout routines for both you and your horse(s)?
It all depends on the horse. Typically if the horse has been in my hands for a longer period of time, I won't show them the barrels unless there is a problem. I want my horses to crave what they do. Obviously if there is some tuning that needs to be done then we go to the barrels. Otherwise it's nice to ride them outside of the arena to keep them in shape.
When you're headed to the rodeo what do you listen to: inspirational podcasts, music, audio books?
XM radio. Any mystery podcast. Something to keep the drive interesting!
Do you have a rodeo idol and reasons why?
Growing up my dad would always come back right before I made my run and tell me to "Ride like Rachel Myllymaki." So growing up I always looked up to her and how she can ride a horse quietly with her body and not be in their way. Let's a horse work without overriding them.
Do you have favorite spots to stop at while on the road?
We LOVE the Big Timber, Montana Bakery. Made sure we had time to stop whenever passing through!
Who do you travel with (including pets or companion horses) and in what kind of rig?
Almost always have my husband and three kids with us. . . Then add 2 corgis and an Idaho shag to the mix. The kids love to bring their white miniature horse "Remington".
What are your favorite memories/highlights and obstacles you faced getting to the 2021 circuit finals?
It was a rollercoaster of a year. After Covergirl sold In February I thought my circuit finals years were done for a bit. Found/purchased a 6 year old mare and she won me some money a couple weeks into the season. She then sold and I found another 6 year old mare that hadn't been to a rodeo. I didn't even go try her. Just seen her potential and purchased her. She got me qualified to circuit finals in 4 weeks!!
How do you juggle family life while on the road?
It can be a challenge making sure everyone's needs are met. But it's great making memories on the road and letting our kids experience a lot more than most kids get to. You get a routine of swapping kids while trying to both compete.
What are your hobbies or other sports you compete in?
No other hobbies.

The Run Down
Saddle: C3 Jeff Smith
Pad: 5 Star
Leg Gear: iconoclast
Bits: Ed Wright, Carol Goosetree quite a few different ones.
Feed and Supplements (in addition to what, how much you feed daily): Triple Crown Complete, Oxygen products, beet pulp. Electrolytes
Additional Care: Chiropractic, PEMF