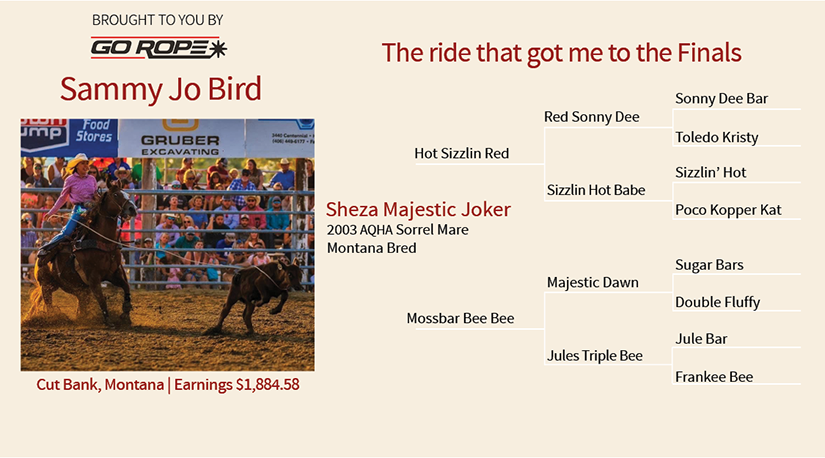 Which horse(s) are you taking to the finals?
Joker
What are their lifetime earnings?
I've owned her for 3 years now and have won close to $40k
What is unique about their personality and what are their strengths?
She has a huge personality, her strengths are her speed and honesty and giving the same shot every time I nod my head.
When did you start competing in breakaway?
I've probably been competing for as long as I can remember I would say probably 15 years or so tough guess
Do you raise your own horses?Or do you purchase? Are you looking for specific bloodlines?
No, I purchase, I have trained some in the past but usually just buy them as young broke horses. I don't look for anything particular on the papers.
What are your conditioning and workout routines for both you and your horse(s)?
I personally like to try and work out five days out of the week. As for my horse Joker doesn't get practiced on every day but I will rope 3-4 on her the day before a rodeo, however I have a few younger horses that get it almost every day.
When you're headed to the rodeo what do you listen to: inspirational podcasts, music, audio books?
I really enjoy Tyson Durphy's podcast
Do you have a rodeo idol and reasons why?
I don't necessarily have an idol, but I do have a lot of rodeo athletes that I look up to and admire for different reasons, The biggest influence on me being my dad. He will forever be my rodeo hero.
Do you have favorite spots to stop at while on the road?
Any type of sushi restaurant
Who do you travel with (including pets or companion horses) and in what kind of rig?
I bounced rigs so times this summer, but some of my favorite traveling partners include, the Conway family, Alicia and the boys, and Calli Otoupalik, noodels, my sister Brittany and dad Sam.
What are your favorite memories/highlights and obstacles you faced getting to the 2021 circuit finals?
Being able to breakaway at a lot of the Pro Rodeos was just an awesome experience in itself.
How do you juggle family life while on the road?
pretty easy to do when you're single lol
What are your hobbies or other sports you compete in?
I am an artist @ Palomino Paintings by Sammy Bird
The Run Down
Saddle: Coats
Pad: CSI
Leg Gear: Classic
Bits: chain port
Rope: Kings 9.5
Feed and Supplements (in addition to what, how much you feed daily): Total Equine, Lybricyn, Equinity
Sponsors: Roper, Bill Fick