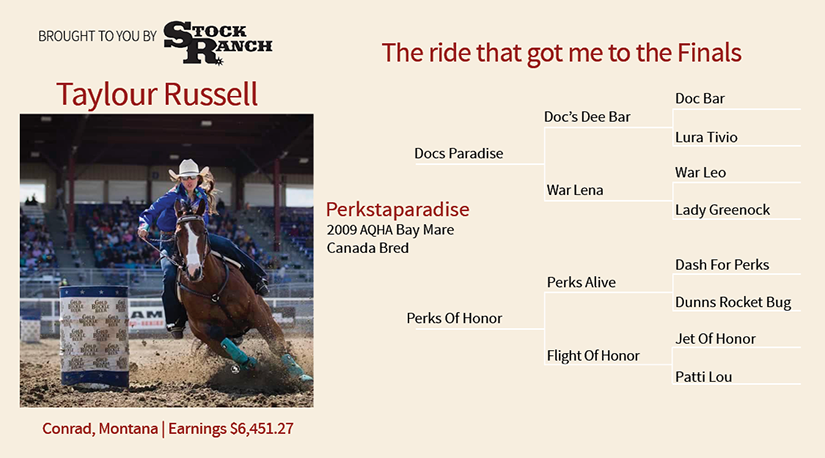 Which horse(s) are you taking to the finals? What are their lifetime earnings?
PERKSTAPARADISE "Amelia" (LTE 35k+); Deltas First Candle (2005 Sorrel Gelding by Deltas First Dash x JA Flaming Candle by Special Effort, Canadian Bred) "Tiny" (LTE 50k+)
What is your horse(s)' style when running barrels and what's unique about their personality?
Amelia is a push style. Tiny is a Free Runner. Amelia is just the sweetest mare to be around, although she can be fairly demanding.
When did you start competing in barrel racing?
I have been riding horses since I was a little girl. I participated in some local Omaksee events . I didn't seriously start competing till I was about 11.
Do you raise your own horses? Or do you purchase? Are you looking for specific bloodlines?
I have mainly just purchased horses up to this point in my career. I do have a couple mares now that I look forward to consistently raising a couple of babies out of a year. My first baby I raised will be ready in the next couple years. I feel extremely blessed to have the mare power that I do. Proven bloodlines are definitely a plus in addition to conformation and disposition. However, I do believe a horse with a big heart will carry you a lot further than papers will.
What are your conditioning and workout routines for both you and your horse(s)?
Amelia gets ponied for most of her conditioning and workouts. We do interval long trotting in both the pasture and in the arena. I do think her rest and recovery days are just as important. Our week is normally set up around her rest days. As for myself I stay active. I make sure to watch what I'm putting in my body, especially going down the road. I travel alone for the most part so there's plenty to be done that keeps me busy. Yoga has been really helpful especially in keeping my body soreness to a minimum.
When you're headed to the rodeo what do you listen to: inspirational podcasts, music, audio books?
I listen to lots of music, all kinds! I also listen to podcasts; Morbid (True Crime), The Gauge, Racers Edge, Feedroom Chemist.
Do you have a rodeo idol and reasons why?
That's a tough one but I would have to say Brittany Pozzi Tonozzi. She has won on so many different horses that she has raised and trained. Brittany is a winner all the way around and always seems to have a trailer full of talent.
Do you have favorite spots to stop at while on the road?
As hard as I try to stay healthy on the road, I have a really hard time passing any McDonalds or coffee shops. I try to stay pretty direct in my travels so the horses can have the least amount of trailer time. If I can organize a stop at home between rodeos I really like to let the horses have turnout time for a couple hours if possible. Gas stations that have a spot for my dogs to run on are also ideal!
Who do you travel with (including pets or companion horses) and in what kind of rig?
I travel with my Cane Corso and Frenchie. My Corso, Nicks, primarily went with me alone this last year. I hauled Amelia's boyfriend, Wynn, with me this summer. Wynn is a gelding I raised and is a character, he's deemed himself a part time barrel horse for now. We traveled for the most part in my Platinum air ride stock trailer. On some of the longer trips I was able to use my good friend Becky Fuson's living quarters.
What are your favorite memories/highlights and obstacles you faced getting to the 2021 circuit finals?
I think my highlight from this summer was placing at both Red Lodge and Livingston. I had never entered Livingston in previous years. Never count yourself out! Amelia has more heart and grit than any horse I have been around. My favorite memory from this summer was winning Drummond by nearly a half second. That run still gives me butterflies! It was extra special that I had family and friends that came to watch me that day. I will always cherish that win. The next weekend we went to Stanford where I also was surrounded by my great family and friends. Amelia went in there and did her thing that day as well. It felt like a dream!
How do you juggle family life while on the road?
I am so grateful for my family and close friends. I'll keep in touch and let everyone know how it's going. I have a list of people that I get to report back to after each run or weekend. I can't help but feel so blessed to have so many in my corner that care! I am overwhelmed by the amount of support that I receive.
What are your hobbies or other sports you compete in?
I really enjoy cooking and baking. Can shopping be considered a hobby? I have several pets, 4 dogs and I'm embarrassed with how many cats I have. Spoiling them could be considered a hobby. In the winter I like to snowmobile. Horses consume me for the most part! I find it hard to have much time for anything else.
The Run Down
Saddle: Master Saddle, light weight
Pad: Love my 3S Pad or 5 star
Leg Gear: Classic Equine
Bits: Kerry Kelley locked three piece Glyder is Amelia's Competition bit. Dry work is done in a few different bits depending on what I'm after; Elliot Rope Gag, Elliot lifter, KK Ticket Etc.
Feed and Supplements (in addition to what, how much you feed daily): Amelia is turned out as much as possible in the pasture. So she's on full feed. She gets straight alfalfa hay each day on top of that and when we travel. I love BlueBonnet feeds. Amelia is on Omega Force, 3-5 lbs a day is ideal. Stride supplements are my go to. I have seen a huge difference in my horses with these products.
Additional Care: Amelia gets regular laser treatment and PEMF. Jordan Payne with Payne-less Solutions works on my horses. TOPP Equine (Jenn Shields) has been a staple in Amelia's Routine.
Sponsors: My Dad, Joe Russell, is my biggest sponsor. I will forever be grateful for all he's done and made possible for me. Along with the rest of my sweet family and friends!