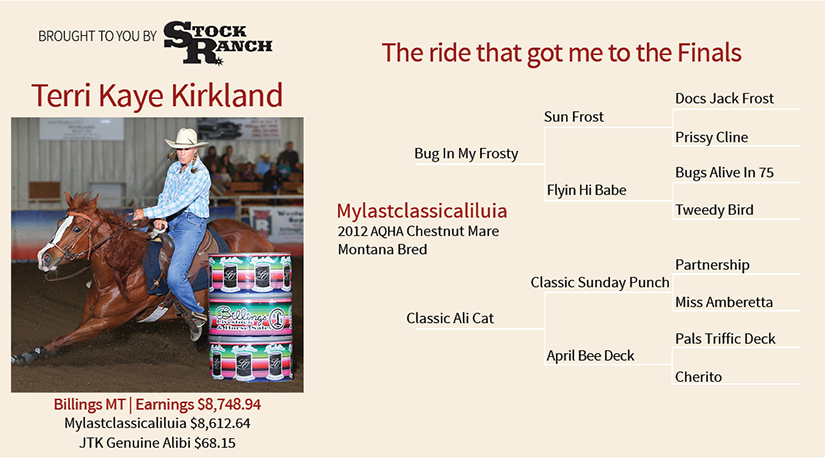 Which horse(s) are you taking to the finals?
Running Aliluia and back up Alibi (JTK Genuine Alibi, 2009 Brown Mare, by Genuine Strawfly x Classic Ali Cat, Montana Bred)

What is your horse(s)' style when running barrels and what's unique about their personality?
Aliluia is push-style and very turny. She is bold but personable

When did you start competing in barrel racing?
I started when I was two . . . a very long time ago!

Do you raise your own horses? Or do you purchase? Are you looking for specific bloodlines?
Raised both girls out of my mare that I made the NFR on Ali.

What are your conditioning and workout routines for both you and your horse(s)?
I just exercise them every day, no barrel work.

When you're headed to the rodeo what do you listen to: inspirational podcasts, music, audio books?
I usually don't listen to the radio, but if I do Christian music.

Do you have a rodeo idol and reasons why?
My idols are my parents who taught me how to ride, and compete while being respectful to everyone.

What are your hobbies or other sports you compete in?
I bird hunt with Jay.

The Run Down
Saddle: Merrill saddle
Bits: Chain combo or chain o-ring
Feed and Supplements (in addition to what, how much you feed daily): Alfalfa hay and rolled oats and other supplements.
Additional Care: They get magnetic blankets and wraps. Also massages and Chiro and use an inhaler.