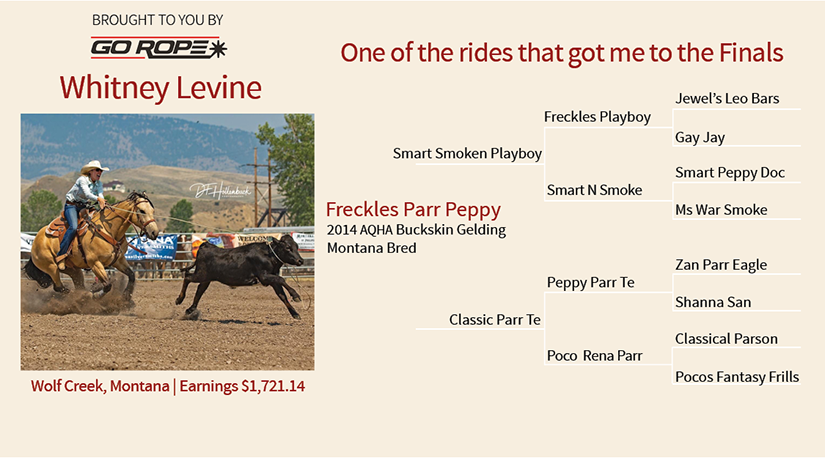 Which horse(s) are you taking to the finals?
I am taking Trigger (Freckles Parr Peppy) my 7-Year-old Buckskin Gelding and his brother by another mother, Mowgli (Freckles Go Zan by Smart Smoken Playboy x Zans Jena Go by Zans Cowboy Command, bred by Lanell & Kelly Ashley of Belt) a 7-year-old bay gelding.

What is unique about their personality and what are their strengths?
Trigger is very user friendly, scores like a rock and is quick across the line. He is a neat horse as you can head, heel, and breakaway rope on him all in one practice and he transitions easily across all 3 events.

When did you start competing in breakaway?
I started competing in breakaway roping when I was about 10 in the NRA Juniors.

Do you raise your own horses? Or do you purchase? Are you looking for specific bloodlines?
We purchase a lot of our rope horse prospects from Ashely Quarter Horses as babies. We train our own horses. They are all used on the ranch first and then are transitioned into whatever discipline we feel fits them the best. I have a handful of babies that have Freckles Playboy on their papers and I have really liked them. Disposition and conformation far outweigh the bloodlines though for me.

What are your conditioning and workout routines for both you and your horse(s)?
We rope 2-3 days per week and condition horses in between. Typical conditioning routine consists of long trotting and hill work. For me, personally I enjoy fitness and exercise 6-7 days per week. I am an avid runner, but also like strength training as a way to mix it up and keep my core and limbs strong.

When you're headed to the rodeo what do you listen to: inspirational podcasts, music, audio books?
I love inspirational podcasts. Anything that helps expand the mind and focuses on positivity.

Do you have a rodeo idol and reasons why?
I would have to say my husband. He has been super successful over the years and always seems to keep that "winning" attitude no matter what the circumstances are. He has taught me a lot about keeping a positive attitude and enjoying the ride.

Do you have favorite spots to stop at while on the road?
Crumble Cookie – if we can get to one you will find us toting a party box haha.

Who do you travel with (including pets or companion horses) and in what kind of rig?
I almost always travel with my husband and our 2 dachshunds Copper and Macy.
What are your favorite memories/highlights and obstacles you faced getting to the 2021 circuit finals?
After taking a 10-year hiatus from the roping arena it was challenging to re-learn how to score and rope fast. I have enjoyed bringing my young horses along and getting the opportunity to rope again. This summer definitely had its challenges, but not giving up and seeing it through was a highlight for sure.

What are your hobbies or other sports you compete in?
I enjoy training colts, running barrels and team roping. So, when I am not gone I seem to always have colts that need to be worked.

The Run Down
Saddle: Custom Saddle made by Grizzly Saddlery
Pad: Impact Gel
Leg Gear: Classic Equine Legacy
Bits: Tom Balding bits
Rope: Striker by Rattler
Feed and Supplements (in addition to what, how much you feed daily): Alfalfa/grass mix and Omolene 200 grain
Additional Care: Lots of pasture time when not traveling and Back on Track products.