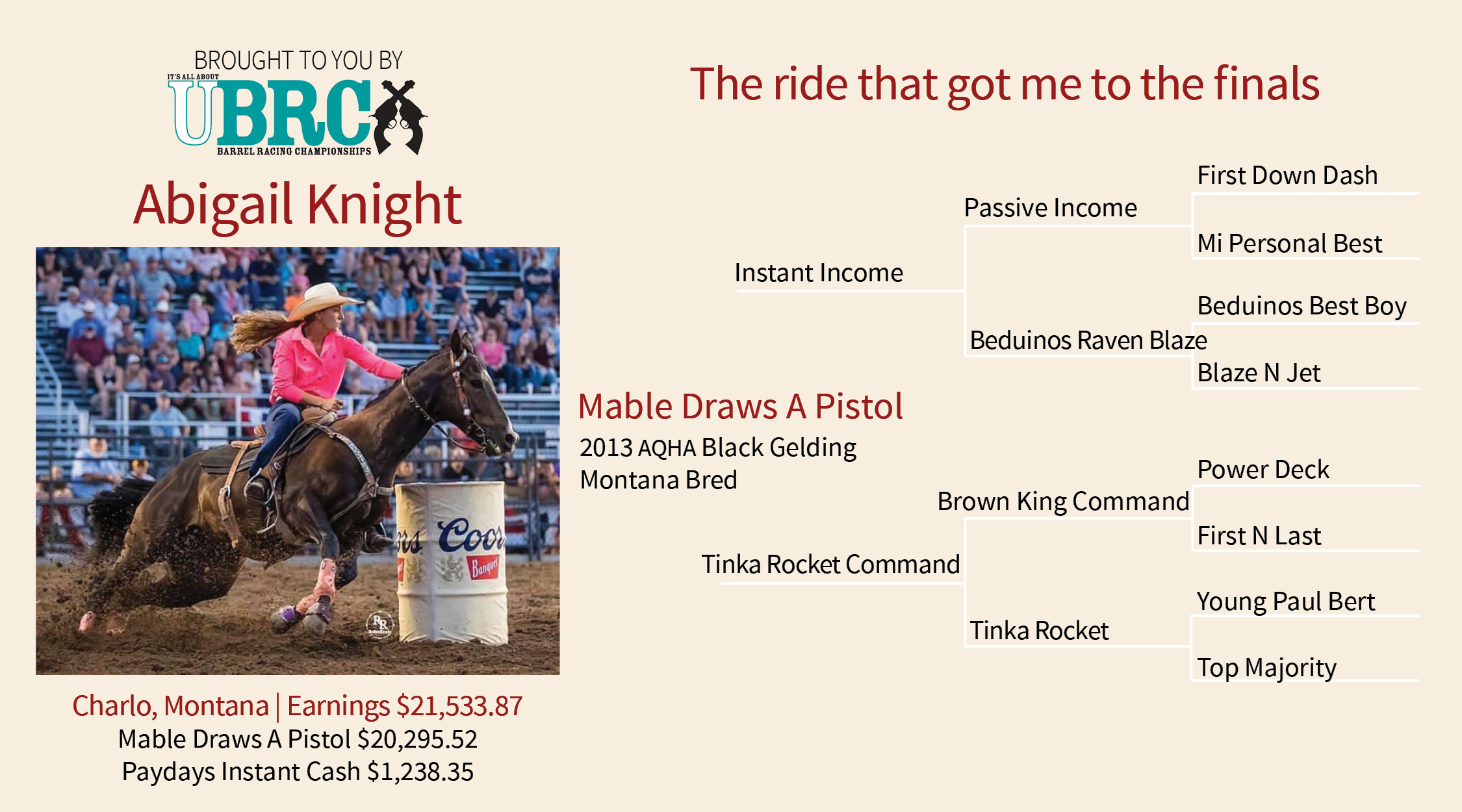 Which horse(s) are you taking to the finals? What are their lifetime earnings?
Mable Draws A Pistol aka Pistol LTE of $92,623; Dox My Honor aka AJ (2017 bay mare by Dox Serendipity out of Beduinos Raven Blaze by Beduinos Best Boy, Montana Bred)

What is your horse(s)' style when running barrels and what's unique about their personality?
Pistol is a more of a push-style horse. He will run really hard into the turns and plants his hind end and come around them; he hunts the barrels, he rarely ever runs by a barrel. To get the most out of him you really have to drive him hard to the barrel because he makes his fastest moves when he can rollback on himself. He is your typical gelding. He is goofy and has his quirks but really loves his quality scratches and cookies. He will spook at everything, but the moment he needs to got to work he is all business.
When did you start competing in barrel racing?
I have been competing in barrel racing since I was four years old. Both my parents come from a rodeo background so I was born into it.

Do you raise your own horses? Or do you purchase? Are you looking for specific bloodlines?
Pistol was born and raised on our ranch. His dam was my father's heel horse, we still have her and she will be 36 this coming year. He is by Instant Income from Y-Y quarter horses. I bought AJ as a two-year-old from Y-Y Quarter Horses, and now she is 5. I focus more on personality and their mind when I am looking at horses. Papers are becoming a large part in the barrel racing world and played a role when I was looking to breed my mares this year.

What are your conditioning and workout routines for both you and your horse(s)?
I rarely ride my horses in the arena, I get bored loping circles so I imagine that they do too. I have a four mile loop that I ride my horses on 5 days a week. They have to ride by a dairy, which makes them very used to cows, as well as deal with vehicles so they become pretty broke doing it. It includes hills and flat spots so they get a variety of intensities. I also like to breeze my horses out in the field to help build up their lungs. As for myself, I workout religiously at home in the winter. I do at-home workouts that help build core strength as well as balance. During the summer I am riding at least 10 horses a day so that keeps me in shape.

When you're headed to the rodeo what do you listen to: inspirational podcasts, music, audio books?
I am guilty of loving true-crime podcasts! I listen to them when I ride at home as well as on long drives. When it comes to right before the rodeo I have many playlists that cover a wide range of genres.

Do you have a rodeo idol and reasons why?
My rodeo idol would have to be Yvette Vega. She taught me everything I know about training horses as well as how to rodeo. She hauled me all over with her while I was growing up. This last year she fought with brain cancer and never stopped supporting me and was always there to offer advice when I was feeling down or frustrated. She has showed me what true grit and determination is, she is always pushing me to branch out and compete at a higher level.

Do you have favorite spots to stop at while on the road?
Any small town coffee shop. I must have at-least two cups of coffee in the morning to function. I always try to stop at the Wheat Montana at Three Forks. I love a good soup and sandwich combo.

Who do you travel with (including pets or companion horses) and in what kind of rig?
I was on the road by myself quite a bit this year but my dog Oakley comes along as much as she can. One of my closest friends Julia Nichols was always there to jump in when I needed her as well as my friend Aubrey DuMont. I have a small living quarters horse trailer for the longer trips, but I have a 5 horse trailer I try and take whenever I can.
What are your favorite memories/highlights and obstacles you faced getting to the 2022 circuit finals?
I would say that the biggest highlight of the season was traveling across the state over to Baker and Circle, down to Billings, then all the way back to Kalispell and placing at all of the rodeos. I am truly lucky to have a horse that can run in all sorts of pens. Overall, I haven't had to face too many obstacles, and if I did I learned from the experience and am better for it.

How do you juggle family life while on the road?
My family is very supportive of my rodeo career. They keep my other horses in shape while I'm on the road, or are willing to meet me to swap out a horse for me. I really couldn't do it without them.

What are your hobbies or other sports you compete in?
I love anything outside. In the winter I like to go snowboarding, skiing, and ice skating even though I am not very good. In the summer I try to sneak in hikes or trips to the lake when I have the time.

The Run Down
Saddle: Robbie Phillips
Pad: CSI
Leg Gear: Classic Equine classic fit or Professional Choice 2X Cool
Bits: Twisted wire Half-Wonder
Feed and Supplements (in addition to what, how much you feed daily): Grained 2X a day: Strategy healthy edge (1 full grain scoop), two pumps GutX by 100XEquine, two pumps JointFlex by 100XEquine, rice-bran pellets
Additional Care: lots of cookies and tummy rubs