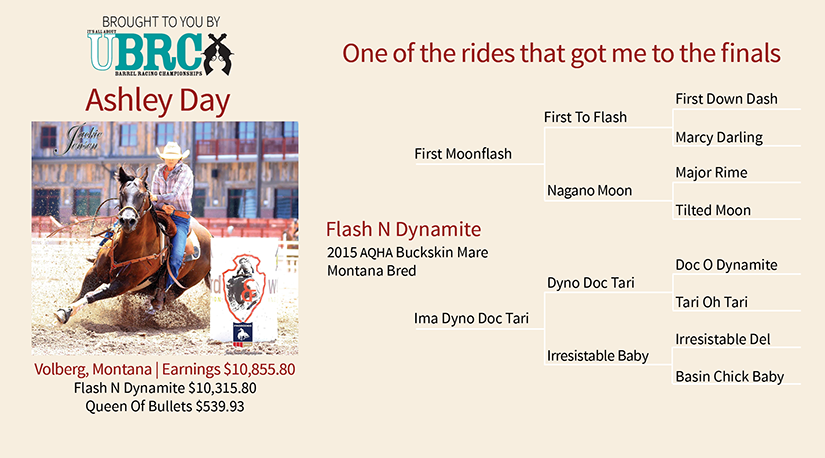 Which horse(s) are you taking to the finals? What are their lifetime earnings? I will be bringing Flash N Dynamite "Pearl" LTE: $43000+ and ArmedNFamous "King" LTE: $37000+ (2017 Brown Stallion by Dash Ta Fame x Queen Of Bullets by Frenchmans Bullet, Montana Bred, PESI)

What is unique about their personality and what are their strengths? Pearl isn't even 15 hands and just loves the big pens, she's very mild mannered and relaxed at all times. She's very business minded, loves to run barrels, doesn't want fussed over. One of her
strengths is she is very efficient with her feet, she stays correct, doesn't waste a lot of energy or take extra steps. King is just off his futurity year, so he's still learning the ropes. He's a super happy, ready to please type. Loves attention and loves to run barrels! One of his strengths is his reach and ability to cover ground without looking like he's running or trying extra hard.

When did you start competing in barrels? I was sitting on a horse before I would walk… probably started running barrels when I was 5, if I
had to guess.

Do you raise your own horses? Or do you purchase? Are you looking for specific bloodlines? We raise our own horses. We stick with bloodlines that we know we like, but we outcross them sometimes to keep improving genetics!

What are your conditioning and workout routines for both you and your horse(s)? I try to work out every day that I can! In the summer it might be once or twice a week… the rest of the year its maybe 5-7. Love the Peloton and strength training. My finished horses get a majority of pasture long trotting and hills. If they need worked on the barrels they will get it…but not often.

When you're headed to the rodeo what do you listen to: inspirational podcasts, music, audio books? All of the above, in various forms.

Do you have a rodeo idol and reasons why? I don't idolize people, but I have a lot of respect for the people who succeed in this sport and
stay humble, positive and professional!

Do you have favorite spots to stop at while on the road? Brewerys and Coffee Shops! I also like to vacation as much as possible… lol, so if its possible I like to sneak in paddle boarding or white water rafting (mostly at the futurities). When I travel with the team ropers, we golf. Or try to golf.

Who do you travel with (including pets or companion horses) and in what kind of rig? I spent equal amounts of time traveling with my husband Radley and Jared (his team roping partner), and Erin Williams. When I'm with the team ropers we usually have our 5 horse Twister. When I travel with Erin we mostly have her 4-horse Elite because the boys have the Twister. OR we take the Bloomer and drive around Montana with 6 flat tires and an awning blowing in the wind.

What are your favorite memories/highlights and obstacles you faced getting to the 2022 circuit finals? Highlights include Pearl placing almost everywhere I got to take her, she even won a few rodeos! She really grew up this year and it was fun to be along for the ride. She started out the year battling the mother of all abscesses, I really didn't get to run her much until later in July. When it finally went away my faithful horse shoer husband had to poxy her foot all year to keep a shoe on. Super frustrating, but we figured it out.
How do you juggle family life while on the road? My family is usually on the road too these days, so it's either really easy or really hard when we need to be three different places at once. Basically take it week by week, day by day and figure it out best we can.

What are your hobbies or other sports you compete in? I like to vacation… we all ski and team rope. I spend most of my time training futurity colts.

The Run Down
Saddle: Robbie Phillips
Pad: 5 Star
Leg Gear: Classic Equine – Polos on back
Bits: Kerry Kelly Ticket Combo
Feed and Supplements (in addition to what, how much you feed daily): She gets Blue Bonnet Grain-
Gallon/day, Alfalfa/grass Hay, and Oxy-gen Mag Max daily. Oxy-Pulmon and electrolytes when she runs.
Additional Care: XLr8 Blankets, PEMF and Chiro when we can, and regular vet visits.
Sponsors: Bar-O-Abit