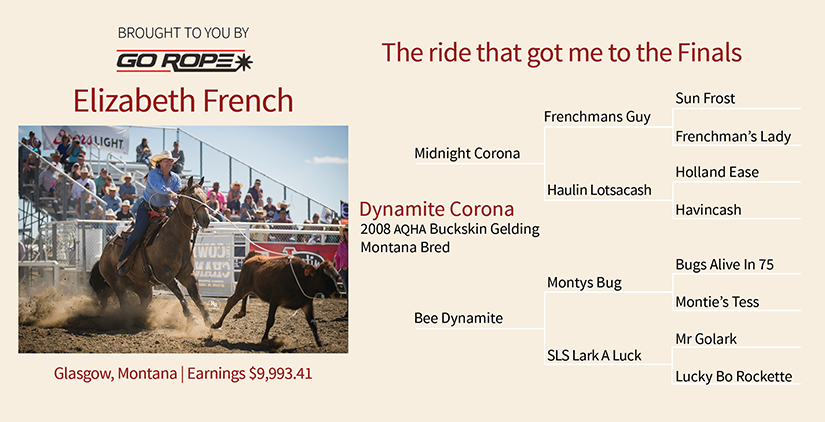 Which horse(s) are you taking to the finals? What are their lifetime earnings? I'm taking Vesa who is 14 to the circuit finals this year. His lifetime earnings are roughly around $40,000.
What is unique about their personality and what are their strengths? Vesa is not a fan of loud noises and crowds, but when we are making a run he's zoned in. His personality is strong in the way that he's all game. Vesa also has a personality of being a sweetheart; he's always in my pocket. His biggest strength is grit. He hasn't let me down yet.

When did you start competing in breakaway? I started competing in breakaway roping when I was 8.
Do you raise your own horses? Or do you purchase? Are you looking for specific bloodlines? We do not raise our own horses we've generally purchased our horses. I don't have any specific bloodlines I look for. I mainly look for if they're cowy, have some speed, a good mind is a must.
What are your conditioning and workout routines for both you and your horse(s)? For my horses I tend to do more incremental exercises. Trot, then lope, switch directions, trot, then lope. I do this for about 30 minutes. I haven't been great about my exercise routine lately but when I do get a chance to my go-to would be free weights.
When you're headed to the rodeo what do you listen to: inspirational podcasts, music, audio books? I tend to have a mix between podcasts and music. I have a wide variety of music that I listen to, but for podcasts it's usually Crime Junkies or The Gauge.
Do you have a rodeo idol and reasons why? I look up to Jackie Crawford in the rodeo industry. I like her style of roping and try to implement some of her techniques into my routine. She is very consistent and has a great mindset when on the road.
Do you have favorite spots to stop at while on the road? When going through Malta I have to stop at the Conoco to get my dogs and I ice cream (yes they get a pup cup) and they have the best ice cream.
Who do you travel with (including pets or companion horses) and in what kind of rig? There are very few people to travel with when I live in Glasgow, but my dogs (Duke and Merle) go with me just about every weekend. When I do get to travel with someone else it's usually Mandy Newman. My rig is a 2012 Red Dodge Ram 3500 and a Southern Classic stock combo with a living quarters.

What are your favorite memories/highlights and obstacles you faced getting to the 2022 circuit finals? This summer was full of ups and downs. To be completely honest I almost stopped going halfway through the summer because I was having some tough luck and couldn't get things to click. My dad told me to go to just one more and see what happens. The next rodeo was Lewistown and I ended up 3rd there. That run helped me turn things around and got me on a roll for the last half of the summer. My favorite highlight would have to be doing so well in Baker. They put on one good rodeo over there in Fallon County.

How do you juggle family life while on the road? My family here in Glasgow consists of my two dogs: Duke a Corgi/Mini Aussie cross and Merle a Mini Aussie. I am a crop insurance analyst for Northwest Farm Credit and our busiest time of the year is in the summer with all of the acreage reports and claims that we usually have going on. I am able to work remotely a few days throughout the year which works out well with being on the road a lot. My coworkers and boss are very supportive and help make it possible for me to work this way with all of our schedules.

What are your hobbies or other sports you compete in? I like to do some leather work and beading when I have free time.

The Run Down
Saddle: Ryan Motes calf saddle
Pad: CSI
Leg Gear: Classic
Bits: Tyler Magnus chain port bit
Rope: Cactus Hooey CoreTX
Feed and Supplements (in addition to what, how much you feed daily): Vesa gets Purina Omelene 200 (a scoop) and 1 oz Lubriysn HA every day. I usually feed grass/alfalfa hay mix if my horses are not able to be on grass. In the summer when I'm on the road I usually add in a scoop of alfalfa pellets.
Additional Care: Vesa gets an Osphos shot twice a year. He wears an aluminum elite 3-degree wedge shoe on his front and regular rims on his hind end.
Sponsors: I currently do not have any sponsors, but I have a list of people that have helped me this last year that I would not have been able to get down the road without. The Billingsley family (J, LeeAnne, Brooke, Bailey, and Blaire) have let me rope all year round at their house as well as generously letting me keep Vesa there this winter to stay practiced up for the circuit finals. Myron Malnaa has helped me find pasture for my horses in the summer in Glasgow. Northwest Farm Credit and my boss have made it very easy to work around my rodeo schedule. I also want to thank my family for all the support and encouragement this year. I could have not done it without all of them!