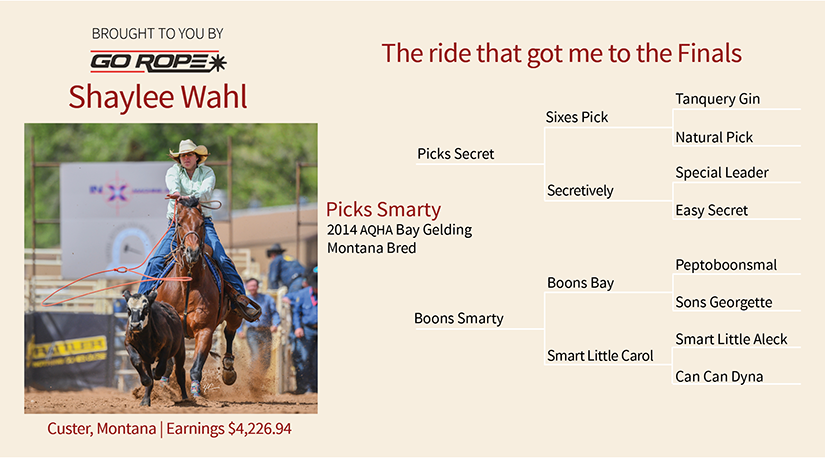 Which horse(s) are you taking to the finals? Picks Smarty "Boone" is a horse that was in my husband's ranch string. Dalton did a ton of work and turned into a breakaway horse for me. We got him from the S Ranch out of Custer MT.
What are their lifetime earnings? Whatever I won on him this summer…Dalton's team roped on him too.
What is unique about their personality and what are their strengths? Boone is all business when he is in the box otherwise he is what I would call watchy. He got a lot better after hauling this summer. Boone is a powerhouse and I would definitely say he gives me one of the fastest starts out there. Without him I couldn't have qualified.
When did you start competing in breakaway? Around ten years old in the YRA. Thanks mom & dad !
Do you raise your own horses? Or do you purchase? Are you looking for specific bloodlines? Our long-term goals involve buying more started two year olds and finishing them. We have 2 right now that Dalton and I have that are getting ready to be hauled this summer.
What are your conditioning and workout routines for both you and your horse(s)? Our horses get rode in the feedlot and ranched on by my husband. We try to rope 4-5 times a week. I work full time so without him keeping stuff legged up it would be pretty difficult. I've been trying to workout three times a week, I have been doing some free workouts(Caroline Givran) I found on you tube. I e done beach body in the past as well. :)
Do you have a rodeo idol and reasons why? Too many count. Lynn Smith has been a long time idol of mine from back in the goat tying days . She is just a hand with a rope and has a pretty amazing work ethic as well.
Do you have favorite spots to stop at while on the road? Starbucks or any ma & pa coffee shops. There's a gas station in Moorcroft Wyoming with some great caribou coffee as well.

Who do you travel with (including pets or companion horses) and in what kind of rig? Tiffany Ogren and Kelsey Hanson were my primary traveling partners this summer. I did jump in with Sarah Verhelst a few times and pretty much anybody else that wanted to go. :) I have an old feather lite I have stole

When you're headed to the rodeo what do you listen to: inspirational podcasts, music, audio books? Honestly we are usually chatting, when we go down the road. I do like to read and if I go by myself I'll plug into any of the three. I do like podcasts. I like X factor, Thick Thighs Save Lives, and Be your best horsemanship .
What are your favorite memories/highlights and obstacles you faced getting to the 2022 circuit finals? There's so many awesome memories. Winning my first check at a PRCA rodeo was a pretty big deal for me because I have never really thought of myself as a breakaway roper until Dalton was like why are you not entering these? There is a pretty great story of Sarah, Joey and I getting to some rodeo in North Dakota and we forgot about the time change. We realized about 2 hours from the rodeo that we were gonna be late. We rolled in about the time the rodeo was starting. I parked in the middle of, well everything and we saddled. Breakaway was the 2nd event. We made it but I was sure speedy. There's also the time I had a calf pusher found in Cascade, and my boss was like uh no offense to this guy but I will be pushing your calf. The calves were fresh and I want you to win. I won some money there too. When Bode tells you he's pushing, you let him.
How do you juggle family life while on the road? I am very blessed to have married someone who is so supportive. I couldn't do it without Dalton. Honestly I'm awful at balancing it all but he grounds me and kind of reels me back in.

What are your hobbies or other sports you compete in? I like team roping, and being in ranch rodeos with my dad and husband. I read quite a bit.

The Run Down
Saddle: Todd Slone
Pad: Todd Slone and a Navajo pad
Leg Gear:
Bits: Right now I rotate between three. There is a ported bit Dalton traded his buddy for, a gag bit, and then a blessing bit.
Rope: I really liked the Switch from Lonestar, they don't make it anymore. I ordered the last that they had on hand and called a few places that still carried them. I use spitfires too. I like a lil bit heavier of a rope and it just always seems to have a good eight. They feel good in the cold too.
Feed and Supplements (in addition to what, how much you feed daily): oh god, Boone's on a round bale free choice, I grain him when he gets rode. I do use cattle active a lot when he doesn't want to drink or if he seems uncomfortable when we are on the road.
Sponsor: Circle H Nutrition