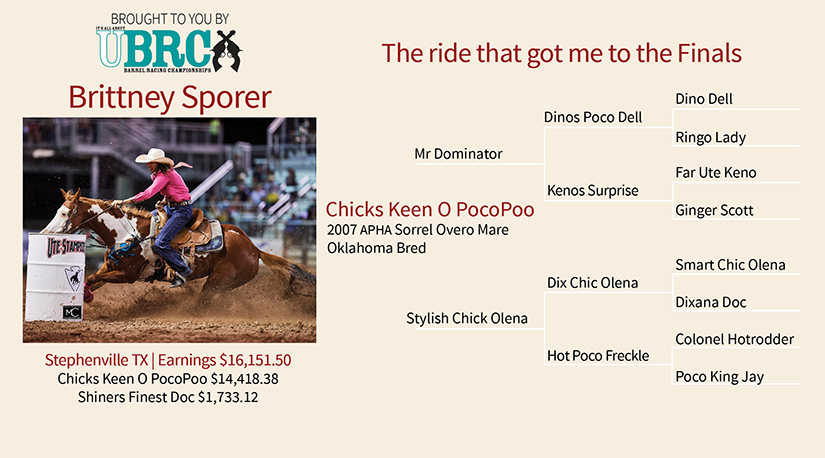 Which horse(s) are you taking to the finals? I will be taking my main horse, Chicks Keen O PocoPoo as well as one of my backup horses, Frostys Sugar Peppy (2013 palomino gelding by Frosty On Tap out of Peps Curly Lena by Smartest Little Pep, Texas Bred).

What are their lifetime earnings? I believe paint has won over $250k with jackpots and rodeos combined. Sunny has won just over $10k

What is unique about their personality and what are their strengths? She is a very unique mare with a very funny annoying personality. She knows how to push my buttons but is very sweet at the same time. I believe one of her strengths is being so little that her turns are faster than a big horse. Sunny is your typical immature gelding but he's becoming a great horse now that he's been exposed to more sights. I believe one of his strengths is being so well rounded in multiple disciplines that it's helped him stay consistent.

When did you start competing in barrels? I started competing at a young age but I never got serious about it till College.

Do you raise your own horses? Or do you purchase? Are you looking for specific bloodlines? I raise my own as well as buy them. I do look at specific bloodlines, I prefer a cowbred or a run/cow cross.

What are your conditioning and workout routines for both you and your horse(s)? My horses are ridden 4-5 times a week but they may only see the barrels a handful of times a month if I need to show them something specific. I have never been to a gym, I get enough of a workout chasing my 30+ horses around.

When you're headed to the rodeo what do you listen to: inspirational podcasts, music, audio books? I am a big country music fan, I also love Christian music and I will listen to inspirational podcasts.

Do you have a rodeo idol and reasons why? My rodeo idol is Sheena Robbins, She has been a big inspiration to me since she made the finals in 2009. She has helped me a ton with my rodeoing and is always there to push me to do better.

Do you have favorite spots to stop at while on the road? Anywhere in Idaho & Montana during "Huckleberry Season". One of my favorite rodeos is Big Fork so we can spend the day at the lake. Anytime there is a carnival going on, my daughter loves to go ride the rides.

Who do you travel with (including pets or companion horses) and in what kind of rig? This year I traveled with my daughter and my friend Dusty. At a few circuit rodeos, I was able to go with my husband. I always say I'm like a traveling circus, no matter what I usually have 4 horses and a pony and I always have my dogs as well. I drive a 2022 Ford F-350 and a 2010 Bloomer.

What are your favorite memories/highlights and obstacles you faced getting to the 2022 circuit finals? This was by far my favorite summer, my daughter got to go to all of the rodeos with me and she got to qualify for the NRA finals with Sunny, my backup horse. One of the sad memories was losing one of my backup horses in July, I had rode her at a few rodeos and she was just started to show a lot of promise.

How do you juggle family life while on the road? It is not easy, luckily my daughter got to go with me all summer and she is great with the horses. She will wake up at 3am and help me set pens up and fill water buckets. My husband rodeos, so we do get to see him a lot of we draw up the same. My family is really supportive and they will always fly in if I need help.

What are your hobbies or other sports you compete in? I buy and sell alot of horses throughout the year so I don't really have time to do anything else but horses. I enjoy riding English and jumping whenever I get the chance.

The Run Down:
Saddle: Robbie Phillips
Pad: Best Ever Pads
Leg Gear: Pro Orthopedic
Bits: Kerry Kelley, J & C and Randy Reid
Feed and Supplements (in addition to what, how much you feed daily): Purina & Vetline Equine. My horses get Alfalfa and Grass.
Additional Care: Acuscope & Myopulse Therapy
Sponsors: Prestige Auction Company, Robbie Phillips Saddlery, Western Legacy Hat Co, Best Ever Pads, Rockstar Reins, Zesterra, Delicious Horse Treats TX.