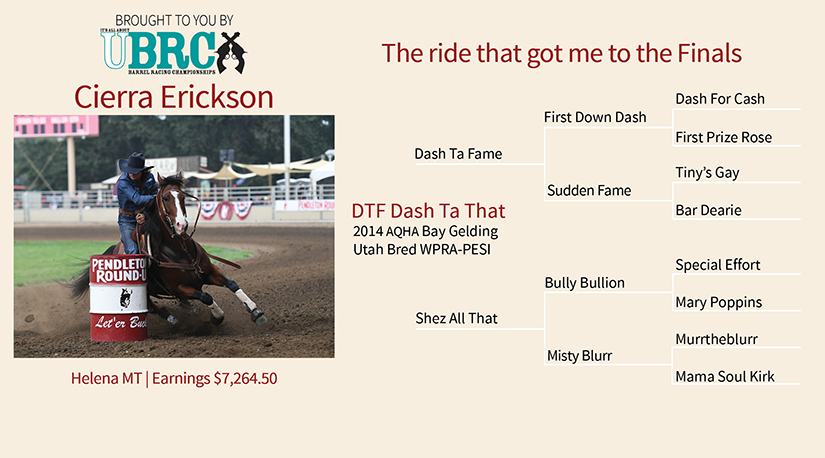 Which horse(s) are you taking to the finals? DTF Dash Ta That (Pasco)

What are their lifetime earnings? $60K
What is unique about their personality and what are their strengths? He is a quirky and fragile horse, so I am diligent to keep his routine the same and make sure to do what's best for him. He loves his job, he is all business when I get on and I can count on him to give me his best every trip! His confidence and grit in the arena makes barrel racing a lot of fun!
When did you start competing in barrels? As soon as I could ride my horse on a lead line (probably 3 years old)
Do you raise your own horses? No, we purchase prospects usually after they have been started to ride, based on conformation, ability and breeding.
Are you looking for specific bloodlines? Yes I am, prefer running bred horses, for barrels, bulldogging and even the ones we rope on.

What are your conditioning and workout routines for both you and your horse(s)? For Pasco specifically, I ride outside mostly and I pony him a lot. He is hot to ride so I choose to pony him, where he will stretch out, long trot and it's very low stress for him. When I ride, only work small circles, stopping, backing and lots of body control. Hardly ever work the barrels, I only ride to keep him soft, confident and quiet.
When you're headed to the rodeo what do you listen to: inspirational podcasts, music, audio books? Yes, I listen all of the above! I really enjoy learning from others, even in other disciplines or sports.
Do you have a rodeo idol and reasons why? I have several but to name one, would have to be Lari Dee Guy. She's a true horsewoman, a hand and vessel of knowledge. She's been the forefront of teaching the next generation of girls and she is always willing to help anyone become better.
Do you have favorite spots to stop at while on the road? A few favorite places to eat and we stop at the lakes to swim on hot days. Always appreciate the rodeo grounds with good accommodations so that the horses can rest and have a nice place to stay.
Who do you travel with (including pets or companion horses) and in what kind of rig? My travel partners are my friend Dez, my French bulldog Blazie and our daughter, Cedona Anne. Occasionally our schedules will align and my husband, Ty will come along with us. I have a 5 horse trailer so of course we have a trailer load of horses everywhere we go.
What are your favorite memories/highlights and obstacles you faced getting to the 2022 circuit finals? The first great memory was placing 3rd at the Nile on 2021 which gave me some confidence going into the summer of 2022, then we were able to place at over 60% of the rodeos I ran him at so I am very thankful for my horse's consistency! The biggest obstacle was the ground, we went to quite a few rodeos that were unsafe or had been rained out so I learned when to run my horse and when to wait until the next rodeo.
How do you juggle family life while on the road? A lot of good people! We couldn't rodeo, ride horses or live this lifestyle if it wasn't for great help, I have amazing friends and family who help care for our daughter when we are competing.
What are your hobbies or other sports you compete in? Anything roping and training horses.
The Run Down
Saddle: Burns
Pad: Classic Equine Zone
Leg Gear: Classic Equine Legacy
Bits: Dave Elliot
Feed and Supplements (in addition to what, how much you feed daily): Free choice Alfalfa and Grass hay. Grain 2xs day; Purina Omlene 500 and Super Sport. Platinum Performance Complete Joint, Longevity and Renew. BioMane!
Additional Care: Sid Erickson chiropractic. Bemer, Laser, PHT and Back on Track.
Sponsors: Helena Ag, Purina, Platinum Performance, Classic Equine, Rattler Rope, Resistol Hats and BioMane