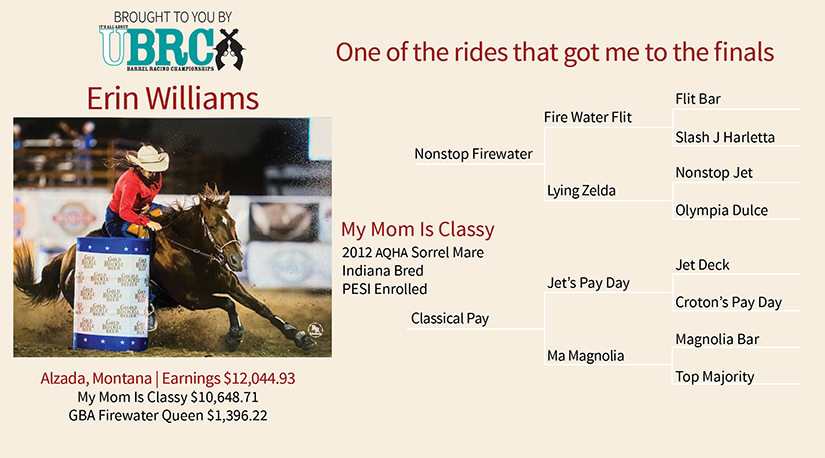 Which horse(s) are you taking to the finals? What are their lifetime earnings?
My Mom Is Classy (Ritzy) 11 year old mare LTE over $75K. Justanuther Goodbye (Bye Bye) (2018 Sorrel by The Goodbye Lane x Justanuthrstylishwon by Justanuther Wonder, Texas Bred, WPRA-PESI) LTE $265

What is unique about their personality and what are their strengths? Ritzy is all heart and grit. She never stops trying. All day or night in the trailer she will still jump out and go win. She loves to run barrels and loves to have a job in general no matter what it is. Having a horse that gives her all every single time you walk in the arena is something that I do not take for granted and something that I know I may never have again. Bye Bye is just starting her barrel racing career. She has only been entered one time. I put tons of miles and hours on her this summer on the ranch. She has a big motor and no quit. She reminds me a lot of Ritzy and I am excited to see what her future holds.

What are your conditioning and workout routines for both you and your horse(s)? My horses mainly get long trotted about 3 to 4 miles a day if we aren't doing ranch work. Other than that, they mainly get rode on the ranch. Very seldom do they go in the arena.

When you're headed to the rodeo what do you listen to: inspirational podcasts, music, audio books?
I listen to audio books on every trip.

Do you have a rodeo idol and reasons why? Kassie Mowry's complete domination in the rodeo and futurity world has been inspirational this year.

Do you have favorite spots to stop at while on the road? I like to layover in Forsyth and Big Timber.

Who do you travel with (including pets or companion horses) and in what kind of rig? I usually have two horses along and two dogs (Tuxie and Rex) and if the team ropers draw up wrong then I get to have Ashley Day in the rig too!

What are your favorite memories/highlights and obstacles you faced getting to the 2022 circuit finals? August seems never ending in the Montana Circuit. During the Glasgow, Big Timber, Great Falls and Sidney run; We went through six tires on the trailer and lost the awning! Somehow, we made it on time to every run!

How do you juggle family life while on the road? Juggling and managing everything that needs to get done on the ranch and worrying about quality family time is probably the biggest struggle to make it to the circuit finals. It seems like everyone is coming and going all summer, it's hard to find a good balance.

What are your hobbies or other sports you compete in? Horses are the only hobby I have time for these days. I used to coach High School Girls basketball but there is just no time for that anymore.

The Run Down
Saddle: Bautz Brazilian
Pad: 5 Star Pads
Leg Gear: Iconolast on all four
Bits: Martha Josey start to finish bit
Feed and Supplements (in addition to what, how much you feed daily): I feed Blue Bonet growth daily along with Oxygen Mag Max daily. Pre-race, I use Oxygen Fluidity and Oxy pulmon.
Additional Care: I love Draw It Out on her leg's pre-race and post-race.