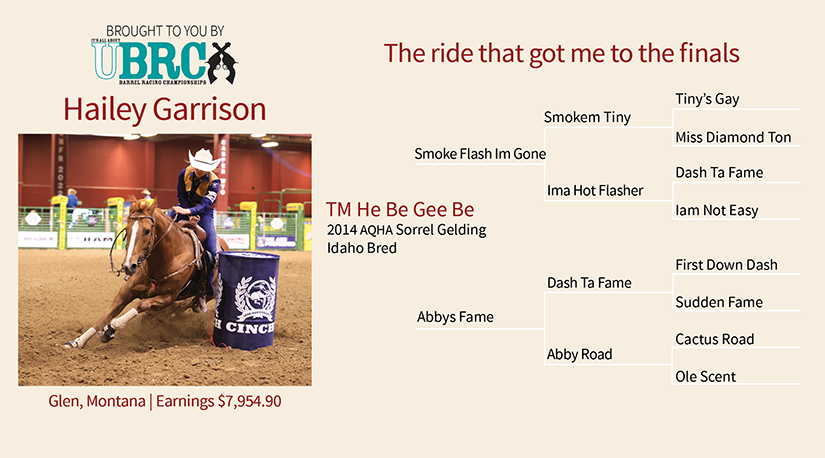 Which horse(s) are you taking to the finals? What are their lifetime earnings? I am taking my gelding TM He Be Gee Be aka "Hebe" to the circuit finals. His LTE is 35k+
What is unique about their personality and what are their strengths? Hebe is a very consistent gelding. As long as he is feeling good and in routine he will go out and make his run every time. Hebe is very personable and has a very funky personality.
When did you start competing in barrels? I started competing when I was young at 4H rodeos then moved onto Junior high rodeos to high school and college rodeo, now currently pro rodeos.
Do you raise your own horses? Or do you purchase? Are you looking for specific bloodlines? I do both. I have two horses going on the barrels and roping right now I raised and have quite a few coming up. I purchased Hebe from Desirae Wheeler in Idaho Falls before the start of his 5 year old year. I personally believe a good horse is a good horse no matter what their papers say and try not to focus too much on bloodlines.
What are your conditioning and workout routines for both you and your horse(s)? I like to exercise my horses by riding them out on our ranch and keeping them sharp in the arena with pattern work and drills. I stay in shape by riding and also working out routinely.
When you're headed to the rodeo what do you listen to: inspirational podcasts, music, audio books? I like to listen to any pop culture or wellness podcasts. My music taste is very wide and I listen to many different genres.
Do you have a rodeo idol and reasons why? I honestly think there are so many valuable people to look up to in the rodeo world. I can't pinpoint a single person but there is something to learn or admire from anyone.
Do you have favorite spots to stop at while on the road? I love a good Maverick Gas Station or anywhere that has a Wendy's or McDonald's
Who do you travel with (including pets or companion horses) and in what kind of rig? I almost always have my dog Harlo with me wherever I go. If I'm not with a traveling partner I'll bring a younger horse along with hebe to let them see the sights. My mom jumped in with me to a few rodeos this year and her company is always appreciated.
What are your favorite memories/highlights and obstacles you faced getting to the 2022 circuit finals? This was Hebe's first Pro season back since 2020. We almost lost him to EPM in 2021. I brought him back this February and he has exceeded my expectations since. He came back and stayed confident throughout the season while still battling some side effects.
How do you juggle family life while on the road? I constantly stay in touch with my parents and family. My parents are always there to help me troubleshoot horse problems and are supportive of everything I do. I have the best support system behind me so it's easy to juggle family life while I'm gone.
What are your hobbies or other sports you compete in? I like to go on runs to keep my head clear and travel during the off season. I also stay busy with work when I'm not competing.
The Run Down
Saddle: Corriente
Pad: Best Ever
Leg Gear: iconoclast or professional choice
Bits: sherry cervi short shank gag
Feed and Supplements (in addition to what, how much you feed daily): low starch performance grain by West Feeds, Gut x, Platinum