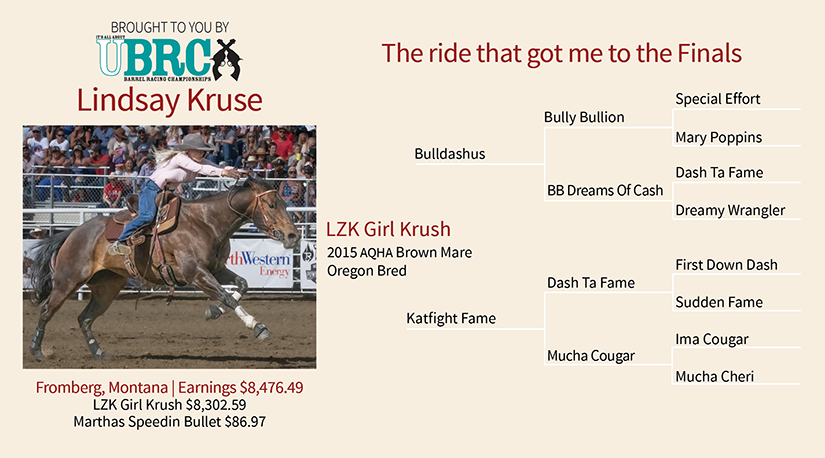 Which horse(s) are you taking to the finals? LZK Girl Krush and Butlers ClaimTaFame (2014 mare by Eddie Stinson x Carman Jo Butlertime by Butler, Kentucky bred)

What is unique about their personality and what are their strengths? Krush is like a good ol mama. Very sweet and doesn't always act her age. One of the sweetest mares you'll ever be around. Boujee is very sweet but can be a handful. I've only owned her a few months and made a couple runs on her, so she is still learning my style and learning a lot of other things that will make her a great competitor.

When did you start competing in barrels? I started at about 11 years old competing in all events and once I turned 18 in early 2007, I never looked elsewhere but to try and be a top competitor for our Pro rodeo circuit.

Do you raise your own horses? Or do you purchase? Are you looking for specific bloodlines? I do not raise my own. I don't enjoy the training part. My passion is to find horses that have the potential to be a number one, but usually have problems that I love to fix and get to that diamond in the rough. Bloodlines are great to look for, but I think a lot are overlooked if you only ever looked at bloodlines.

What are your conditioning and workout routines for both you and your horse(s)? When you're headed to the rodeo what do you listen to: inspirational podcasts, music, audio books? Usually just watch movies on the ipad. I would love to listen to podcasts, but with three kids in the back seat, it's not always quiet.

Do you have a rodeo idol and reasons why? Rachel Myllymaki was one I always looked up to. My dad would always tell me right before I ran, to ride like Rachel. She has such an ability to ride a horse softly and to be able to push/hustle them without making it look like you are overriding your horse. She would always stay out of their way and let them work. I love that, and have always tried to ride like her.

Do you have favorite spots to stop at while on the road? The Bakery in Big Timber is amazing. Always make sure and stop during that rodeo or passing by! We also like to make it fun for kids to find an adventure along the way.

Who do you travel with (including pets or companion horses) and in what kind of rig? My husband, Jesse and our three kids. We usually have a shag and a corgi or two with us! Harlow has her pony "Apache" that she loves to bring along.

What are your favorite memories/highlights and obstacles you faced getting to the 2022 circuit finals? 2022, I came in not knowing if my horse was gonna be ready as she had stifle surgery last October. She started out with a bang but then lost a little confidence along the way as we struggled with drawing up at the right time with the right ground. Was a rough year for ground. Not always fun when you are trying to gain your mares confidence back from just healing up from surgery. So we had my five-year-old "Foxy" along and I got to season her along the way. Either way, Krush has one of the highest hearts and I was so amazed and proud of her this year!!

How do you juggle family life while on the road? We take them with.

The Run Down
Saddle: Jeff Smith C3
Pad: 5 Star
Leg Gear: Iconoclast
Bits: all different kinds
Feed and Supplements (in addition to what, how much you feed daily): Triple Crown, Platinum CJ
Additional Care: Chiro, PEMF, Magnetic, great vet care.
Sponsors: Dr Ted Vlahos with Yellowstone Equine. He's amazing and takes the best care of my horses!! We couldn't do it without him.