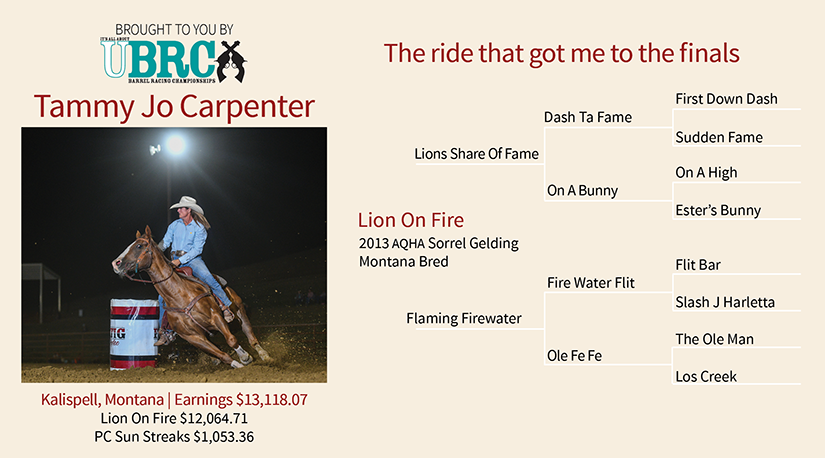 Which horse(s) are you taking to the finals? What are their lifetime earnings? I will be taking Scorch (Lion On Fire) and Obie (PC Sun Streaks by A Streak Of Fling x PC Sun Dew by Sun Frost, South Dakota Bred, PESI)

What is unique about their personality and what are their strengths? Scorch likes attention but pretends that he does not. His biggest strength is his ability to handle any kind of ground.

When did you start competing in barrels? I have been barrel racing since I was very young.

Do you raise your own horses? Or do you purchase? Are you looking for specific bloodlines? I bought Scorch from Tim & Kelly Bagnell as a weanling. I was looking for a horse with run on the top and a good mind on the bottom.

What are your conditioning and workout routines for both you and your horse(s)? I just exercise in the pasture when competing on them. On occasion, I'll work some drills but don't work him on the barrels much.

When you're headed to the rodeo what do you listen to: inspirational podcasts, music, audio books? I listen to Sirius XM, with a variety of music.

Do you have a rodeo idol and reasons why? Many people of different disciplines that have found success through better horsemanship.

Do you have favorite spots to stop at while on the road? I enjoy staying with friends when possible.

Who do you travel with (including pets or companion horses) and in what kind of rig? I travel with my husband Rich in our 4-horse living quarters trailer.

What are your favorite memories/highlights and obstacles you faced getting to the 2022 circuit finals? My favorite highlight was placing second in Coeur d'Alene. It was rewarding to have a nice run at a big event. One of my biggest challenges was managing my rodeo schedule with my full-time job.

How do you juggle family life while on the road? I travel with my husband so that makes it a lot easier. Our son Andrew is now 20 and busy doing his own thing.

What are your hobbies or other sports you compete in? There really isn't any time left over for other hobbies or sport.

The Run Down
Saddle: Martin Stingray
Pad: Classic Equine wool pad
Leg Gear: Iconoclast
Bit: 50/50 Chain
Feed and Supplements: The best alfalfa hay, Purina Ultium and Oats
Sponsors: My family!