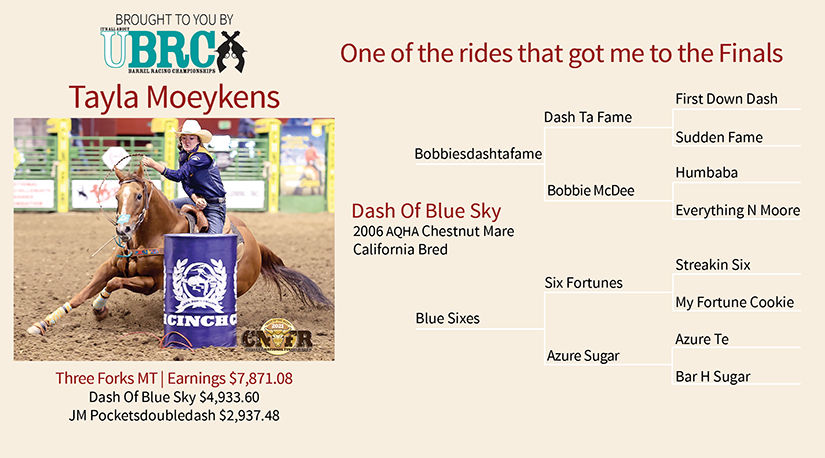 Which horse(s) are you taking to the finals? What are their lifetime earnings?
I will be taking Dash of Blue Sky aka "Blue," JM PocketsDoubleDash aka "Lizard" (2013 Brown Gelding by Guyspocketfullofcash x Katys Perks by Dash For Perks, Kansas Bred) and JM Lenas French Lady aka "Little Lately" (2008 Mare by Guyspocketfullofcash x Late Leo Lena by Jack Lena, Kansas Bred)
What is your horse(s)' style when running barrels and what's unique about their personality? They are all a push style as I have to ride them square into the pocket. Lizard and Blue are very honest and love to run. Even though Lately is new to barrels, she has a lot of try. Blue is very sassy and lets you know what she is thinking. Lizard is very sweet but has a spunky side. Lately has recently grown an attitude and can be very demanding for her grain.

When did you start competing in barrel racing? I started competing by myself at the age of 3.
|
Do you raise your own horses? Or do you purchase? Are you looking for specific bloodlines? Blue came to us about 3 years ago and Lizard we've had since he was 6 months old. Lately came to us about 7 years ago. We love breeding such as Frenchman's Guy and Dash for Cash, etc.

What are your conditioning and workout routines for both you and your horse(s)? We mainly do conditioning exercises such as long trotting and drills. We work the pattern usually 2-3 times a week depending on if there is something we need to work on.

When you're headed to the rodeo what do you listen to: inspirational podcasts, music, audio books? Mainly we have the radio playing, but I love to read or sleep while in the truck. We also listen to mentally toughening tapes.

Do you have a rodeo idol and reasons why? Tyson Durphy, as he is professional both in and out of the arena and provides inspirational
quotes. I also look up to my mom, Deena, as she has taught me so much and is the strongest person I know.

Do you have favorite spots to stop at while on the road? We try to find places where we can turn the horses out to run and stretch their legs. Most of the time they stall next to the trailer where they are the most comfortable.

Who do you travel with (including pets or companion horses) and in what kind of rig?
We have two dogs, Zeke and Blue, that go everywhere with us and sometimes PC ConstantFame (Albert) will come along as well as a buddy/backup. We have a 4 Star Living Quarters and a F-350 dually.
What are your favorite memories/highlights and obstacles you faced getting to the 2022 circuit finals? Winning the Thermopolis Rodeo and being higher in the standings than last year. As far as obstacles, being able to keep my horses healthy and comfortable while on the road.

How do you juggle family life while on the road? My mom goes with me everywhere and dad comes when he can get time off from work.

What are your hobbies or other sports you compete in? Rodeo, rodeo, and more rodeo. I also breakaway rope.

The Run Down
Saddle: Martin, Cactus, and Slone
Pad: Best Ever and Classic Equine
Leg Gear: Polo Wraps, Sore No More Poultice (after)
Bits: Smooth mouth O ring and a Junior Working Cowhorse
Feed and Supplements (in addition to what, how much you feed daily): Triple Crown Low Starch and
Ration Balancer, Aloe Vera, and Oil
Additional Care: Nebulizer, Laser, Flair Strips
Sponsors: Flair Equine Nasal Strips, Delicious Horse Treats, Triple Crown Feed, Flexineb