Happy August
Birthday To:

Darae Larson—August 2
Jill Lane—August 9
Dillon McPherson—August 9
Julie Paschke—August 10
Lauren Byrne—August 15
Robin Lyons—August 15
Shelly Anzick—August 24
Raelene Konzak—August 24
Wanda Tade—August 25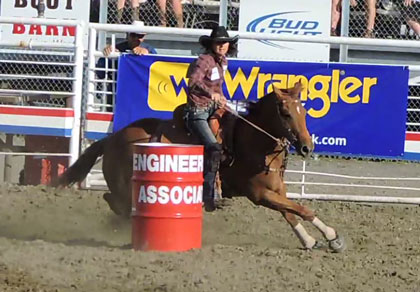 Sweet Heart Special (2003 mare by My Special Bear x Im Testy Too by Isaw Kirk) and Carmel Wright are solidly in second place in the Montana Circuit Standings including two first place circuit rodeo wins: Dickinson and Lewistown. Carmel has also had success with her 7-year-old backup horse Thundernlighting (winning 2nd at Shelby and 6th at Augusta). The Wright's purchased both horses from the late Ron Cook of Casper, Wyoming. And they're related: Lightning's maternal grandmother Im Testy Too (a Dr Kirk granddaughter) is Sweet Heart's mother. Sweet Heart and Carmel are shown above at Cody where a 5th place finish paid $3780.
The circuit standings have been updated as of 8/5.
{image.index}/{image.total}