Happy September
Birthday To:

Jennifer Noble—Sept. 3
Gail Thomson—Sept. 4
Rylee Strauser—Sept. 8
Kyndra Taylor—Sept. 8
Hannah Sharon—Sept. 9
Jimi Rae Croff—Sept. 10
Luanne Cutler—Sept. 10
Theresa Walter—Sept. 11
Mandy Hamilton—Sept. 16
Judith Veer—Sept. 21
Katie Rasmussen—Sept. 22
Mikell Hougen—Sept. 23
Jolene Campbell—Sept. 26
Kylee McDonnell—Sept. 28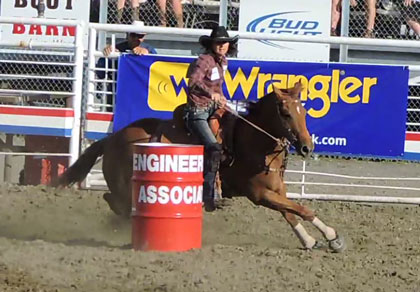 Sweet Heart Special (2003 mare by My Special Bear x Im Testy Too by Isaw Kirk) and Carmel Wright are solidly in second place in the Montana Circuit Standings including two first place circuit rodeo wins: Dickinson and Lewistown. Carmel has also had success with her 7-year-old backup horse Thundernlighting (winning 2nd at Shelby and 6th at Augusta). The Wright's purchased both horses from the late Ron Cook of Casper, Wyoming. And they're related: Lightning's maternal grandmother Im Testy Too (a Dr Kirk granddaughter) is Sweet Heart's mother. Sweet Heart and Carmel are shown above at Cody where a 5th place finish paid $3780.
The circuit standings have been updated as of 8/30.
{image.index}/{image.total}